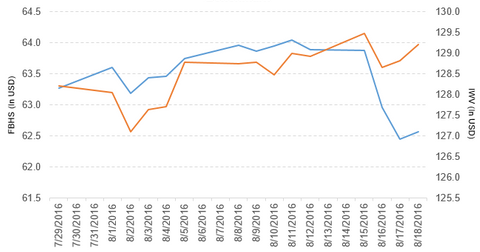 Why Is Fortune Brands Planning to Create a New Group?
By Gabriel Kane

Aug. 19 2016, Published 12:12 p.m. ET
Price movement
Fortune Brands Home & Security (FBHS) has a market cap of $9.7 billion. It rose by 0.19% and closed at $62.57 per share on August 18, 2016. The stock's weekly, monthly, and YTD (year-to-date) price movements were -2.3%, 1.6%, and 13.4%, respectively, on the same day. Fortune Brands is trading 0.55% below its 20-day moving average, 4.0% above its 50-day moving average, and 13.6% above its 200-day moving average.
Article continues below advertisement
Related ETF and peers
The iShares Russell 3000 ETF (IWV) invests 0.04% of its holdings in Fortune Brands. IWV tracks a cap-weighted index that measures the investable US equities market. It covers the entire market-cap spectrum including micro-caps. IWV's YTD price movement was 8.5% on August 18.
The market caps of Fortune Brands' peers are as follows:
Latest news on Fortune Brands
Fortune Brands Home & Security is planning to create a new GPG (global plumbing group) to support growth opportunities and transform its plumbing business.
The company reported that "Fortune Brands has completed its first acquisition under the GPG, Riobel, and has signed an agreement to acquire ROHL and its brands." It added that "The GPG platform will support the growth of multiple plumbing brands simultaneously with an enhanced set of products and brands while leveraging the company's global supply chain and broad distribution network."
Article continues below advertisement
Performance in 2Q16
Fortune Brands reported 2Q16 net sales of $1.3 billion—a rise of 8.3% from net sales of $1.2 billion in 2Q15. Sales of its cabinets, plumbing, doors, and security rose by 17.1%, 5.7%, 8.7%, and 5.8%, respectively, between 2Q15 and 2Q16. The company's cost of products sold as a percentage of net sales fell by 2.1% and its operating income rose by 46.4% in 2Q16.
Fortune Brands' net income and EPS (earnings per share) rose to $125.2 million and $0.80, respectively, in 2Q16—compared to $79.7 million and $0.48, respectively, in 2Q15. It reported adjusted EPS of $0.82 in 2Q16—a rise of 39.0% from 2Q15.
Fortune Brands' cash and cash equivalents and inventories rose by 16.9% and 4.5%, respectively, between 4Q15 and 2Q16. Its current ratio and debt-to-equity ratio rose to 2.1x and 1.2x, respectively, in 2Q16—compared to 1.9x and 1.0x, respectively, in 4Q15.
Quarterly dividend
Fortune Brands declared a quarterly cash dividend of $0.16 per share on its common stock. The dividend will be paid on September 14, 2016, to shareholders of record at the close of business on August 26, 2016.
Projections
The company made the following projections for 2016:
sales growth of 10%–12% based on a rise in sales from its Norcraft acquisition and from its expectation of outperforming the market
EPS before charges and gains of $2.70–$2.78
free cash flow of ~$400 million
In the next part, we'll take a look at Oshkosh.