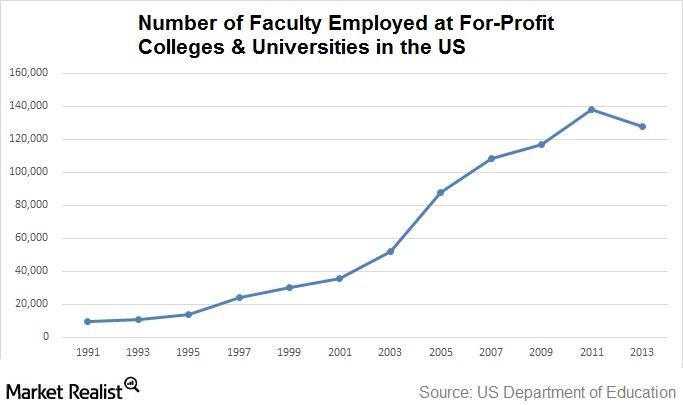 Is the Financialization of Education Leading to a US Bubble?
By Surbhi Jain

Nov. 22 2019, Updated 6:59 a.m. ET
The demand
For the past 15 years, for-profit colleges have flourished on the back of demand for higher education that public and non-profit institutions couldn't meet. By offering convenience and flexibility to a growing number of nontraditional students, these institutions have gained popularity in the United States (IVV) (VOO) (IJH). They've enabled students who didn't have the grades for a four-year university to attend part-time courses while working. These institutions have contributed positively toward the growth of the economy.
Article continues below advertisement
The supply
The rapid rise of these for-profit institutions can be attributed to the following:
convenience and flexibility offered in loan terms and structure
aggressive marketing techniques employed
interest rate swap deals with financial institutions to attract more students for their loan programs
The financialization of education
The financialization of education, especially in the United States (IWF) (IWD), has led to an important and emergent risk to the country's economic future. Aggregate student debt stood at $1.3 trillion as of the first quarter of 2016. The average debt per borrower has risen from $18,550 to $29,000 over the decade ending 2015.
The economy has reached a point where it has become imperative to weigh the costs, both social and economic, associated with student loans against the benefits that accrue from them.
Article continues below advertisement
Levered investing in higher education has led to the creation of a bubble
With the rise in the number of for-profit colleges, they've now come under rising regulatory scrutiny and supervision. Moreover, the aggressive marketing techniques that many of these colleges have been employing to increase the number of enrollments year-over-year are now backfiring. With high student default rates, these institutions have begun to face earnings pressure.
Data compiled by Equifax with respect to student loan delinquencies seem to suggest that some of the biggest problems are in poorer states. About 17% of student loans in Mississippi are overdue by more than 90 days, the highest in the country. The figure stands at 15% for New Mexico.
Corinthian Colleges, one of the largest for-profit chains in the country with 16,000 students, filed for bankruptcy protection last year. It came amid government allegations that it misled students about their chances of getting a job. The Education Department has already cancelled $28 million of debt owed by former students of Corinthian Colleges.
One of the reasons for this rising trend in defaults could be because college education is becoming quite expensive in the United States.