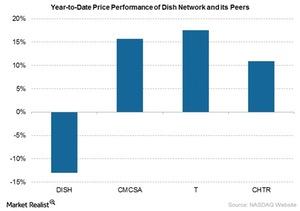 What Factors Are Fueling the Rise in Time Warner's Stock Price?
By Shirley Pelts

Updated
Time Warner's year-to-date stock rise
On August 29, 2016, Time Warner's (TWX) stock closed at $79.14. It has risen by 22.8% YTD (year-to-date).
By contrast, Walt Disney (DIS) has seen its YTD stock price fall by 10.8%, and Viacom (VIAB) has seen its stock price rise by only 1.5%, while Twenty-First Century Fox (FOXA) has declined by 9.4% YTD.
Article continues below advertisement
What's boosting Time Warner?
Time Warner is seeing strong demand for its content, not only in the United States but also in international markets. As a result, the company expects a rise in advertising and subscription revenues.
The company is also expecting strong growth in adjusted operating income in the second half of 2016. It had a leverage ratio of 2.9x as of June 30, 2016, which was slightly higher than its target leverage ratio of 2.75x, and it stated in its fiscal 2Q16 earnings call that it expects to achieve the target leverage ratio by the end of 2016. Time Warner had a net debt of $22 billion at the end of fiscal 2Q16.
Earnings
Time Warner is expecting its adjusted EPS (earnings per share) to be in the range of $5.35–$5.45 in 2016. The company indicated in its fiscal 2Q16 earnings call that this adjusted diluted EPS estimate "incorporates around a $0.06 negative impact related to our equity investment in Hulu, including both our share of the losses and PPA" (purchase price adjustments).
Time Warner also expects strong free cash flow in 2016. At the end of fiscal 2Q16, Time Warner had free cash flow of $1.9 billion.
In this series
In this series, we'll look at Time Warner's content monetization strategy and how the company plans to take advantage of the popularity of its digital platforms. We'll also look at the company's advertising strategy and how its investment in Hulu is likely to affect its content licensing strategy. We'll wrap up the series by analyzing some of the company's valuation metrics.
Let's begin with how Wall Street analysts are viewing Time Warner.