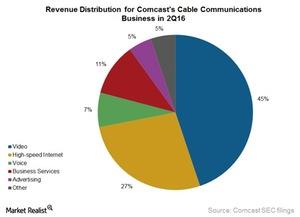 Which Factors Are Driving Growth for Comcast Business Services?
By Shirley Pelts

Updated
Comcast Business Services
Comcast's (CMCSA) Business Services segment is becoming a core revenue growth driver for the company. Comcast's Business Services segment has three growth engines: Small Business, Mid-Sized Business, and Enterprise. In fiscal 2Q16, the Mid-Sized and Small Business segment continued to be a strong growth engine for the Business Services segment.
For business services that provide service to medium-sized businesses, Comcast expects its market penetration to exceed 10%. It believes it has a good Ethernet network services product and that its strong sales team should help it to further penetrate the business services market.
Article continues below advertisement
2Q16 earnings call
At the company's fiscal 2Q16 earnings call, Comcast was asked about how it plans to target the enterprise market for its Business Services growth.
Comcast's management replied, "We're growing customers and we are doing deals with other MSOs. So Huawei's a good example. We just signed a deal with them for 700 locations for both XFINITY public Wi-Fi in the stores and then employee Wi-Fi also within the stores and we did it out of footprint and in footprint. So we did deals with other operators and it's worked out very well."
Comcast also stated that when it comes to enterprise business, it targets a particular profile such as a bank. The company cited the example of connectivity for a bank with a headquarters and multiple branches
Comcast's Business Services segment in fiscal 2Q16
As the above chart indicates, Comcast's Business Services segment comprised 11% of Comcast Cable's total revenues of $12.4 billion in fiscal 2Q16. Comcast's Business Services segment had revenues of $1.4 billion in fiscal 2Q16, up by 17% year-over-year.
The company's Business Services's Small Business segment had a contribution of 75% to this segment's revenues and comprised 60% of the segment's growth in fiscal 2Q16.