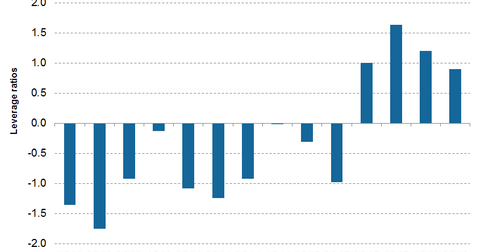 Expedia's Increasing Leverage: What Does It Mean for Investors?
By Ally Schmidt

Updated
Increasing debt
Expedia (EXPE) went on an aggressive expansion spree in 2015. Expedia spent over $6 billion on four strategic acquisitions—HomeAway, Travelocity, Orbitz Worldwide, and a majority stake in its joint venture with AirAsia. Many of these acquisitions have been financed with leverage.
As a result, the total debt on EXPE's balance sheet increased from $1.8 billion at the end of 2014 to $3.2 billion at the end of 2015. However, EXPE's debt has remained constant since 4Q15. The total debt-to-EBITDA (earnings before interest, tax, depreciation, and amortization) ratio has remained constant at 3.5x since the end of 2015, it increased from the ratio of 2.0x it saw at the start of 2015.
Article continues below advertisement
Cash flow provides cushion
A strong cash flow has certainly helped fund many of these acquisitions and will continue to support EXPE's balance sheet in the future. In fact, its cash on balance sheet is constantly improving. As of the end of 2Q16, EXPE's cash on the balance sheet was ~$2.3 billion.
As a result of its improving cash and constant debt, EXPE's net debt-to-EBITDA ratio has improved in the last three quarters. However, since 3Q15, EXPE has gone from being net-debt-negative to net-deb-positive, meaning that its debt is higher than its cash on the balance sheet.
The net debt-to-EBITDA ratio increased from -0.6x at the end of 1Q15 to 1.6x at the end of 4Q15. This then improved to 1.2x at the end of 1Q16 and 0.9x at the end of 2Q16.
EXPE's rival Priceline 's debt has also grown. It had a net debt-to-EBITDA ratio of 0.8x at the end of 1Q16. TripAdvisor (TRIP) had a ratio of -2.1x, while Ctrip.com (CTRP) reported losses.
Why is higher leverage risky?
Both EXPE and PCLN show no signs of stopping their aggressive expansion sprees. Although EXPE's debt is currently at manageable levels, this is bound to increase as the competition gets tougher. High leverage and interest costs reduce a company's ability to cope with unfavorable conditions, making it a risky stock to invest in. Investors should pay close attention to EXPE's growing leverage. EXPE forms ~1.3% of the S&P 500 Pure Growth ETF (RPG).