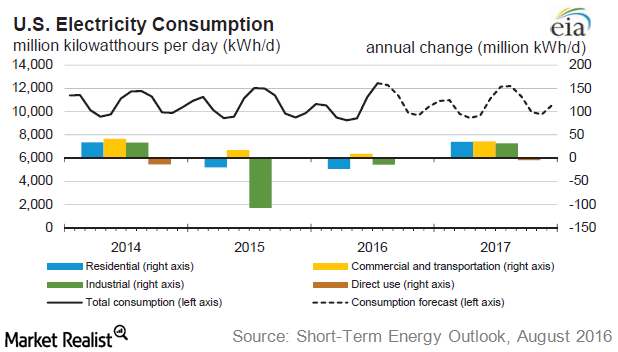 Expect US Electricity Consumption to Fall in 2016
By Vineet Kulkarni

Aug. 24 2016, Updated 8:04 a.m. ET
US electricity consumption
According to the EIA's (Energy Information Administration) Short-Term Energy Outlook for August 2016, retail electricity sales to the residential sector during June–August 2016 will be 3% higher compared to the same period in 2015.
The higher consumption during these months was due to the impact of a relatively warmer summer this year. The cooling degree days during this period were 11% higher than the same months in 2015.
Article continues below advertisement
Favorable weather prompted higher electricity sales
However, higher electricity sales are expected to offset lower consumption earlier this year due to a milder winter. On an annual basis, total residential electricity sales are expected to fall by 0.6% in 2016 compared to 2015. The EIA forecasts that 2017 electricity sales will be 0.9% higher than 2016.
Electricity sales to the commercial and industrial sectors are also projected to rise marginally. Electricity sales to the commercial sector are expected to grow by 0.3% in 2016 and 0.9% in 2017. Likewise, industrial electricity sales are expected to grow by 1.2% in 2017. In 2016, industrial sales are expected to drop by 0.6% due to a slowdown in the industrial sector.
Impact on utilities
Economic growth and electricity demand are generally linked to each other. However, the linkage is gradually turning to slower electricity demand growth related to economic growth. Relatively favorable weather in 2Q16 compared to 2Q15 supported the sales of regulated utilities.
Duke Energy (DUK), Southern Company (SO), and PPL Corporation (PPL)—the largest regulated utilities in the United States—reported higher revenues in 2Q16 year-over-year. Utilities suffered from lower electricity sales in 1Q16 and 4Q15 due to unfavorable weather compared to the respective periods last year.