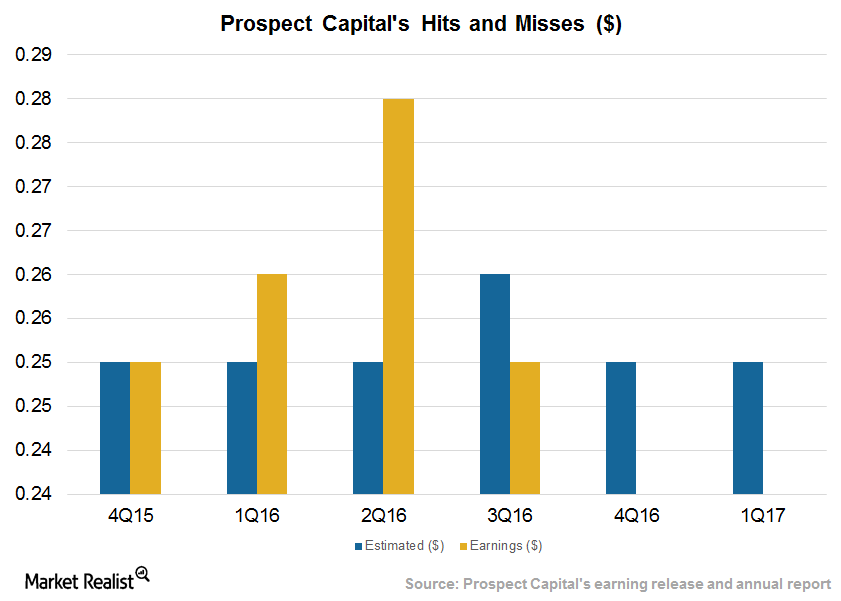 What to Expect of Prospect Capital's Fiscal 4Q16 Earnings
Stable earnings expectations
Prospect Capital (PSEC) stock has risen 14% over the past three months on its stable operating performance. The company is expected to post $0.25 in EPS (earnings per share) for the June quarter and $1.03 for fiscal 2016, with an implied price-to-earnings of 8x.
The Federal Reserve is expected to raise interest rates at a slower pace, which could negatively impact business development companies targeting senior or subordinated debt offerings. However, companies with higher leverage such as Prospect Capital could benefit from the lower cost of capital. Any positive earnings surprise could lead to a positive run for the stock.
Article continues below advertisement
Fundamentals are stable
Prospect Capital missed Wall Street analysts' consensus net income estimate of $0.26 per share in fiscal 3Q16, which ended March 31, 2016. The company posted net income of $0.25 per share. Its net asset value fell from $9.65 per share on March 31, 2015, to $9.61 per share on March 31, 2016. This was mainly due to unrealized depreciation based on volatility in capital markets rather than fundamental credit issues.
Prospect Capital's net investment income rose to $87.6 million in the March quarter compared to $87.4 million in the prior year's quarter. Compared to the previous quarter, its net investment income fell by $12 million. The company reported total investment income of $189 million in fiscal 3Q16 compared to $191 million in the prior year's quarter.
Here's how some of Prospect Capital's peers in investment management fared with their respective quarterly earnings:
Together, these companies form 1.4% of the Financial Select Sector SPDR ETF (XLF).
Article continues below advertisement
Financial services
Prospect Capital is a financial services company that lends to and invests in middle-market, privately held companies. It acts as a closed-end fund and is regulated as a business development company. It provides capital to companies in the form of senior and subordinated debt and equity. This capital is then used for acquisitions, divestitures, growth, development, and recapitalization.
Prospect works with financial sponsors and management teams to identify investments with historical cash flows, asset collateral, or contracted pro forma cash flows. Its investments are made based on one of nine origination strategies:
lending in private equity–sponsored transactions
lending directly to companies not owned by private equity companies
control investments in corporate operating companies
control investments in financial companies
investments in structured credit
real estate investments
investments in syndicated debt
aircraft leasing
online lending
In the following parts of this series, we'll take a look at Prospect Capital's yield, deployments, portfolio strategy, expected earnings, balance sheet strength, and valuations.