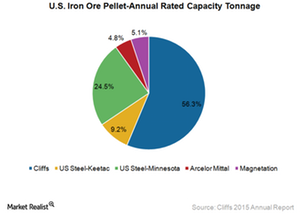 Why Essar Minnesota's Bankruptcy Filing Could Help Cliffs
By Anuradha Garg

Aug. 1 2016, Published 2:26 p.m. ET
Essar Steel Minnesota's bankruptcy
Essar Steel Minnesota, which has been considered a threat to Cliffs Natural Resources (CLF) for some time, filed for Chapter 11 bankruptcy protection on July 8, 2016. That day, Minnesota Governor Mark Dayton refused to extend a deadline to terminate Essar's state mineral leases. Dayton said it was clear that Essar Minnesota wouldn't be able to pay its workers, contractors, or pending dues.
Article continues below advertisement
Potential opportunity for Cliffs?
While the potential threat from Essar Minnesota was almost over when Cliffs signed a new ten-year agreement with ArcelorMittal (MT), the bankruptcy provides a potential opportunity for Cliffs Natural Resources. The company could take over Essar Minnesota's assets at the site and work toward creating a direct reduced iron (or DRI) facility.
The agreement, on the other hand, solidifies Cliffs' position as a sole pellet supplier to the mills in the Great Lakes area. Most of the rest of the iron ore pellet capacity is owned by backward-integrated steel players United States Steel (X), AK Steel (AKS), and ArcelorMittal.
Window of opportunity
During Cliffs' 2Q16 earnings call, its CEO mentioned that the company presented to Governor Dayton and other members of his administration about how to develop the Nashwuak site. Cliffs wants to use this site as part of its future plans of supplying the electric arc furnace steel industry with DRI and hot briquette iron (or HBI). Cliffs, however, acknowledged that the situation might take some time to resolve as the Chapter 11 process continues for Essar.
The company was reasonably confident that as soon as Essar vacates the site, the leases will transfer to Cliffs. This would amount to ~42% of the land occupied by Essar currently.
Management also believes this is a long-term opportunity to produce iron substitutes in the United States (DIA). It also stated that China could become a big importer of scrap before it becomes self-sufficient in, hence the "window of opportunity."
The major highlight of Cliffs' 2Q16 was the signing of a ten-year contract with its biggest customer, ArcelorMittal. We'll discuss the implications of this deal in the next part of this series.