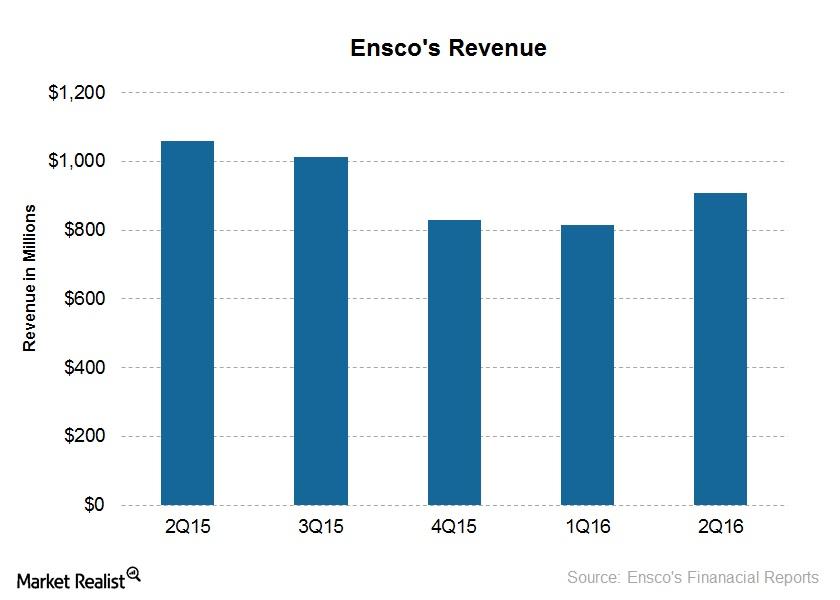 How Ensco's Segments Performed in 2Q16
Ensco's revenue
Ensco's (ESV) revenue from continuing operations was $909 million in 2Q16, an increase of $95 million, or 12%, from 1Q16. Revenues exceeded the company's guidance it provided in the last earnings call.
Compared to $1.1 billion in revenue for 2Q15, this quarter's revenue declined 14%. The company earns its revenue by operating floaters as well as jack-ups.
Article continues below advertisement
Floater segment
In the floater segment, Ensco's 2Q16 revenue was $636 million compared to $634 million in the same period last year. This quarter's floater revenue included $205 million of early contract termination settlement.
Excluding this one-time revenue, revenues declined by 32%. The company reported that this decline was mainly due to lower utilization in the Gulf of Mexico and a decline in the average day rate to $360,000 from $417,000.
Jack-up segment
In the jack-up segment, revenue was $251 million compared to $384 million last year. Again, the utilization slipped to 63% from 77% in 2Q15. The average day rate also declined to $112,000 from $140,000 a year ago.
Article continues below advertisement
Drilling rig management
Ensco also earns revenue through managing drilling rigs. Revenues declined to $242 million from $41 million recorded in 2Q15.
Peers' revenues
In the offshore drilling (IYE) sector, only Noble (NE) and Ensco have released their 2Q16 earnings so far. Noble recorded an adjusted revenue of $484 million in the second quarter. That was 18% lower than the previous quarter's revenue of $591 million.
Wall Street analysts' expectations for other drilling companies are as follows: