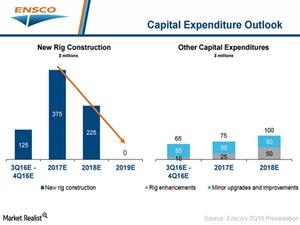 What Are Ensco's Capex Plans for Newbuilds through 2019?
Ensco's cash flow
Article continues below advertisement
Ensco's newbuilds
Ensco currently has the following four rigs under construction: an ultra-deepwater drillship, a premium jack-up rig, and two ultra-premium harsh environment jack-up rigs. The company is scheduled to take delivery of two newbuild jackups—ENSCO 140 and ENSCO 141—later this year. The other two newbulds are scheduled to be delivered in 1Q17, and 1Q18. With two deliveries scheduled in 2016, this year's capex (capital expenditure) requirement for the company is high.
Ensco's capital expenditure
The total remaining newbuild capex is approximately $725 million. Capex for the rest of 2016 is forecast to be $190 million. This includes final payment to the shipyard of $40 million for ENSCO 140 and $39 million for ENSCO 141. To date, the company has paid $157 million each for ENSCO 140 and ENSCO 141.
Going forward, the company forecasts its 2017 capex to be $450 million. Of that, $375 million is for newbuilds. The company estimates 2018 capex to decline to $325 million. Of this, $225 million is for newbuilds. In 2019, the company expects its capex to decline significantly since there will no newbuilds.
Ensco's free cash flow
Ensco (ESV) recorded a positive free cash flow in the first half of 2016. Free cash flow for 2015 was also positive at $67 million. With the company's capital expenditure plans, Wall Street analysts expect free cash flow to remain positive in 2016 and 2017.
In 2015, offshore drillers (IYE) Transocean (RIG), Seadrill (SDRL), Noble (NE), and Rowan Companies (RDC) posted positive free cash flows. Diamond Offshore Drilling (DO) posted negative free cash flow.