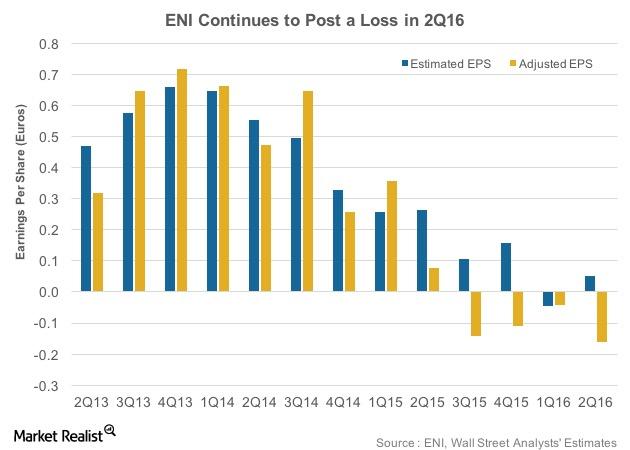 Eni's 2Q16 Earnings: A Dull Show?
Eni's 2Q16 estimated and actual performance
Eni SpA (E) posted its 2Q16 results on July 29, 2016. In this series, we'll evaluate Eni's 2Q16 numbers as compared to its estimates. Then we'll dig deeper and evaluate Eni's segmental performance in 2Q16. We'll also examine Eni's stock performance, implied volatility, and analyst recommendations after the company's 2Q16 results.
In 2Q16, Eni's (E) revenues of 13.4 billion euros, or about $14.97 billion, surpassed analyst estimates. Eni reported EPS (earnings per share) of -0.27 euros, or about -$0.30, for the quarter. After adjusting for special items, Eni's adjusted EPS stood at -0.16 euros, or about -$0.18, in 2Q16, which missed its estimated EPS of 0.05 euros.
Article continues below advertisement
Eni's 2Q16 earnings review
In 2Q16, Eni posted net earnings of -446 million euros, $498.3 million. After adjusting Eni's net earnings for special items (impairments, derivatives effect, and other), inventory holding gains and losses, and transaction effects of discontinued operations, Eni's net adjusted earnings stood at -290 million euros.
Eni's (E) adjusted operating earnings from continuing operations stood at 188 million euros in 2Q16, as compared to about 1.8 billion euros in 2Q15. The steep decline in adjusted operating earnings was due to the sharp fall in earnings from the E&P (exploration and production) segment. Also, the G&P (gas and power) segment posted a loss, which was partially offset by a rise in the R&M (refining, marketing, and chemicals) segment's adjusted operating earnings.
Eni's peer Suncor (SU) also reported a loss in 2Q16. Chevron (CVX) and ExxonMobil's (XOM) adjusted EPS fell by 42% and 59%, respectively, in 2Q16 over 2Q15. Total's (TOT) earnings declined by 30% in 2Q16 over 2Q15. BP's (BP) adjusted earnings fell to $730 million in 2Q16, as compared to $1.3 billion in 2Q15.
For exposure to integrated energy stocks, you might consider the SPDR S&P Oil & Gas Exploration & Production ETF (XOP), which has ~6% exposure to integrated energy sector stocks.
In the next part, we'll do a close analysis of Eni's segments.