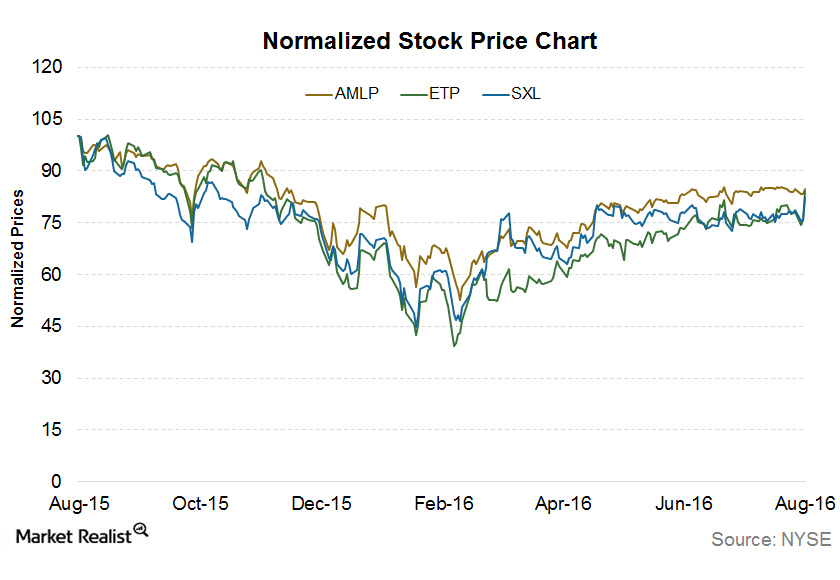 Energy Transfer Partners, Sunoco Logistics Announced Stake Sale
Energy Transfer Partners' market performance
Energy Transfer Partners (ETP) and Sunoco Logistics Partners (SXL) both surged by 8.4% in the two trading sessions following their 2Q16 earnings announcements. ETP's and SXL's share prices can mainly be attributed to project financing and its stake sale of the Bakken Pipeline project to Enbridge Energy Partners (EEP) and Marathon Petroleum (MPC).
Many partnerships are looking for stake sales or JVs (joint ventures) in capital-intensive projects to lower their capital burdens under the current challenging price environment. EnLink Midstream Partners (ENLK) recently announced a JV for one of its projects. For more details, you can read Why EnLink Midstream Rallied after Its 2Q16 Earnings Announcement.
Article continues below advertisement
Energy Transfer Partners' Bakken asset sale and financing
Energy Transfer Partners and Sunoco Logistics Partners announced a 36.8% stake sale in the Bakken Pipeline Project to MarEn Bakken Company, an entity jointly owned by EEP and MPC, for $2 billion. ETP and SXL will receive $1.2 billion and $800 million, respectively, as part of this transaction.
ETP and SXL also announced the successful completion of project-level financing for the Bakken Pipeline project. The 2.5 billion project financing is expected to fund "the remaining capital necessary to complete the projects."
The Dakota Access Pipeline, which is part of the Bakken Pipeline project, is expected to deliver "470,000 barrels per day of crude oil from the Bakken/Three Forks production area in North Dakota to market centers in the Midwest." After MPC's entry, Energy Transfer Partners is expecting the takeaway capacity to reach 570,000 barrels per day.
Energy Transfer Partners' capital plans
Following the completion of its Bakken financing, ETP is left with "$1.25 billion of own balance sheet capital funding needs" for 2H16. The partnership is expecting to use its ATM (at-the-market) equity program opportunistically and to use the undrawn balance under its credit facility to fund its "remaining 2016 growth capital."