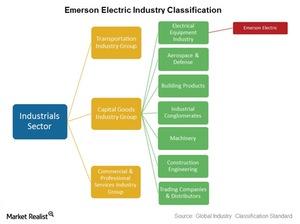 Emerson Electric: The Giant with a 125-Year History
Emerson Electric: An overview
Emerson Electric (EMR) is a global manufacturer of electrical and electromechanical products. It has a market cap of $35 billion at the time of this writing.
The company's key products include equipment such as valves, actuators, switches, electric generators, electrical distribution systems, compressors used in air-conditioning and refrigeration, electronic controls for heating systems, and other control solutions.
Emerson has four business segments. The number of segments was reduced to four after the company sold its telecommunications-based Network Power segment to a group of investors in August 2016.
Article continues below advertisement
Emerson Electric earned revenues of $22.3 billion in fiscal 2015. About 48% of the company's fiscal 2015 revenues came from the United States and Canada. About 22% of its annual sales were derived from Asia, and 18% came from Europe, making those regions the biggest contributors to Emerson's international sales.
The company's three-year average operating margins are 15.9% with cost management actions enabling the company to post operating margins of 18.3% in fiscal 2015. It had a dividend yield of 3.5% at the time of this writing. It's often referred to as "dividend king" due to its currently active record of raising dividends for 59 consecutive years.
Sector classification of Emerson Electric
Based on the Global Industry Classification Standard (or GICS), an industry taxonomy developed by MSCI and Standard & Poor's (SPGI), Emerson Electric is classified in the industrials (IYJ) sector. GICS classifies ten sectors into 24 industry groups. These industry groups are classified further into 67 industries.
Within the industrials sector (RGI), Emerson is part of the capital goods industry group and the electrical equipment industry. For the construction peer group, we'll be using members only within the electrical equipment industry. Some of the major electrical equipment members within the S&P Global 1200 are Rockwell Automation (ROK), Acuity Brands (AYI), and Eaton (ETN).