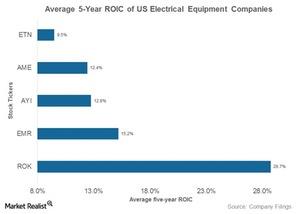 How Does Emerson Compare to Its Peers?
By Shannon Black

Aug. 24 2016, Published 11:31 a.m. ET
Conclusions from Emerson Electric's consistent and high ROIC
In the previous part of this series, we saw how Emerson Electric (EMR) has managed to maintain its ROIC (return on invested capital) at elevated levels for 20 years. We also saw that Emerson Electric does have a competitive advantage over its peers. Why did we say that? We'll look at that more in this part.
It's important to remember that ROIC for a particular year indicates returns on prior invested capital. However, to maintain ROIC at these levels, a company must find avenues that offer high returns on its incremental invested capital. In our analysis, Emerson has managed to do both; that is, find high returns for its prior as well as its incremental invested capital. And only such companies could be identified as ones with a competitive advantage.
In this series, we've looked at Emerson's numbers in the past. Whether the company will continue to post comparable ROIC is something that we can only know by analyzing the company's business. We'll look at this in our next company overview series, which will be available within the next two weeks.
Article continues below advertisement
Comparison with electrical equipment peers
We've used S&P Global 1200 companies within the electrical equipment (XLI) industry for our peer group construction. The electrical equipment (RGI) industry categorization was based on rules stipulated by GICS (Global Industry Classification Standard), an industry taxonomy standard discussed in the first part of this series.
There were 13 companies in the group with an average market cap of $22 billion and a median market cap of $16 billion. The average five-year ROIC of the companies within this group was 9.8%. This is far lower than Emerson's average five-year ROIC of 15.2% and second only to Rockwell Automation's (ROK) 28.7%. Ametek (AME) came in third with an average five-year ROIC of 12.4%.