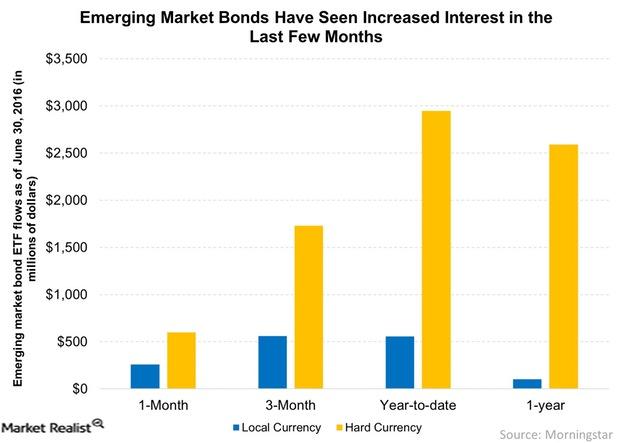 Why Emerging Market Bonds Have Outperformed this Year
Given the current exceptionally low interest rates in the U.S. and negative rates in other developed markets, investors are increasingly searching beyond global core fixed income asset classes for higher yields.
Emerging markets (or EM) bonds is one asset class where investors often look for higher yields, and this year they have attracted special interest. Several tailwinds have helped the asset class thus far in 2016, including continued low interest rates in the U.S., a rebound in commodity prices, and expectations of relatively higher emerging markets economic growth versus developed economies. Furthermore, valuations were considered by many to be attractive at the beginning of 2016, following a few challenging years for the asset class.
Article continues below advertisement
Market Realist – Emerging market bonds have outperformed year-to-date.
Yields around the globe continue to be pushed lower by highly accommodative monetary policies and low growth expectations. Currently, about $11.5 trillion worth of bonds is trading at negative rates.
This trend has caused yield-thirsty investors to flee toward higher-yielding bonds like emerging market bonds, especially those denominated in hard currencies, as the graph above shows. As you can see in the graph, demand for emerging market debt has increased in 2016. Year-to-date, the JPMorgan Emerging Market Bond Total Return Index is up ~13% while its local-currency peer, GBI-EM, is up ~14%.
Signs of stabilization in China (PEK), higher commodity prices, and relative fiscal stability in emerging markets have been tailwinds for this asset class.
Also, the Fed has been dovish in its recent statements, which suggests it will hike rates only once this year at best. The likelihood of rates staying low in the United States has caused investors to flee to emerging market debt (IGEM)(EMB), which yields more. However, bonds usually have higher yields if the risk is higher. We'll shed some light on this relationship in the next part of this series.