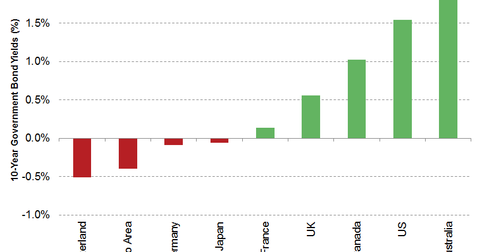 Emerging Market Bonds Could Be the New Black
By VanEck

Updated
The term "emerging markets" is very broad. Countries within this category can be at different stages in their development and employ varying economic policies. Emerging economies can be affected differently by external influences such as global commodity prices and monetary policies, as well as idiosyncratic factors. While some investors view emerging markets bonds as equivalents to high yield bonds, about half of the broad U.S. dollar-denominated sovereign market (as represented by the J.P. Morgan EMBI Global Diversified Index) is rated investment grade. It can be instructive to break down this bond universe by credit rating, examine how each rating category has performed historically, and what they can offer investors.
Article continues below advertisement
Market Realist – Why equities aren't inspiring investor confidence
With factors like the Brexit, lukewarm global growth, and other geopolitical tensions plaguing the world markets, equities are no longer inspiring investor confidence. Investors are looking to fixed income for safety and stability in these turbulent times. Emerging market bonds (EMAG) are definitely benefiting from the shift in investor behavior.
We currently live in a low-yield world. At the end of May 2016, the average interest rate for bonds in the Barclays Global Aggregate Index was a meager 2.9%. This is much lower than the long-term average, which has hovered around 6% since 1990.[1. source: T. Rowe Price Insights]
The above graph shows the ten-year government bond yields for select developed nations (EFA). Most countries in the Eurozone (VGK) (EZU) and Japan (EWJ) are currently giving negative yields. Given this high-duration, low-yield fixed income world, it might be a smart move to augment your bond portfolios with emerging market bonds.
Emerging market corporate bonds or investment-grade bonds (IGEM) could provide higher spreads than Treasuries (TLT) (IEF) and lower risk than junk bonds (JNK) (HYG). Moreover, emerging market corporate debt exposes investors to developing economies, which are increasing their contribution to global growth year after year. The asset class is dominated by dollar-denominated debt, which avoids the risks posed by currency gyrations.
In this series, we'll see why emerging market bonds are looking attractive, how the Market has gained stead this year, and the risks emerging market bond investors face.