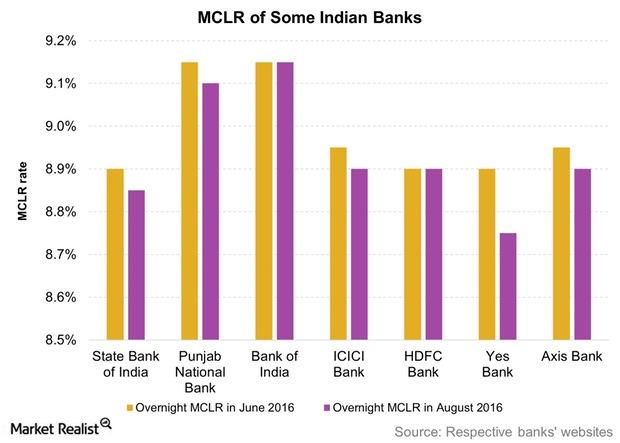 Efficient Policy Transmission in India Concerns the RBI
By David Ashworth

Aug. 11 2016, Updated 9:06 a.m. ET
Importance of policy transmission
"Policy transmission" refers to the translation of monetary policy actions into the financial system through the banking and trading channels. By changing the short-term interest rate, like the repo rate in India or the federal funds rate in the US, a central bank signals other banks to change their lending and deposit rates. However, it can't force them to make the change.
The RBI's (Reserve Bank of India) currently running rate reduction cycle started in January 2015. Prior to the January 2015 meeting, the repo rate stood at 8%. Its journey from that level to 6.5% is comprised of five rate cuts totaling 150 basis points. Although banks (HDB) (IBN) can't transmit the entire quantum of 1.5% to consumers, they still have some more room to pass on the benefit of these rate cuts. Deposit rates almost immediately get reduced after a repo rate cut, while loan rates aren't cut that soon or that sharply. This works as a bottleneck to efficient policy transmission and makes rate reduction by the RBI have less of an impact.
Article continues below advertisement
Banks cited liquidity as a concern
In India, loans sanctioned from April 1, 2016, are with reference to the MCLR (Marginal Cost of funds-based Lending Rate), instead of the base rate that was used earlier. In its August policy statement, the RBI stated that "Easy liquidity conditions are already prompting banks to modestly transmit past policy rate cuts through their MCLRs and pro-active liquidity management should facilitate more pass-through."
In his post-policy press conference, RBI Chief Raghuram Rajan expressed his displeasure at banks not passing greater benefits of the previously mentioned rate cuts to consumers. He said that earlier, liquidity was being cited by banks as a reason for not being able to pass the benefit of rate cuts to customers—an issue that the central bank thinks is resolved. Currently, banks are concerned about FCNR(B) or Foreign Currency Non-Resident (Bank) redemptions. He added that once this issue is resolved, he's concerned that some other issue will crop up. Essentially, he's hinting that banks are looking for reasons to keep lending rates high. He said that the central bank will be making revisions to the MCLR framework shortly to smoothen policy transmission.
Lower rates would help individuals as well as corporates (RDY) (VEDL) (WIT). It will help firm the country's economic growth. This can bode well for India-focused funds (EPI) (FINGX).
In the next part, we'll look at Raghuram Rajan's tenure and how key metrics have panned out during his time as the RBI's governor.