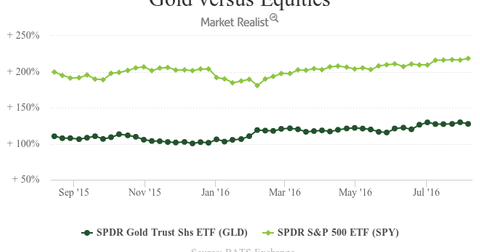 How Do Economic Indicators Affect Gold?
By Meera Shawn

Aug. 16 2016, Published 1:25 p.m. ET
Gold and equities
There have been advances in US equities despite weak US economic numbers, and precious metals seem to be losing some of their haven appeal. The major indexes closed higher at record highs on Thursday, August 11, 2016. You can see the performances of the SPDR S&P Index (SPY) and the SPDR Gold Shares (GLD) in the graph below.
Equities and gold often follow a negative trend. The correlation between the above two indexes is -0.21, which means that about 21% of the time, they change in different directions. A fall in equities may lead to a rise in gold, and an increase in equities may result in a fall, as seen on Thursday and Friday. Another important economic indicator for gold is the US dollar. It rose on Thursday, resulting in falling precious metals.
Other funds that follow gold and silver are the iShares Gold Trust (IAU) and the iShares Silver Trust (SLV). They fell on Friday by 0.31% and 1.3%, respectively.
Article continues below advertisement
Economic data
Investors are closely watching US economic numbers that came out on Friday, August 12. There were some significant numbers that could play on the Federal Reserve's decision to increase interest rates.
The core retail sales figure measures the change in the total value of sales at the retail level, excluding automobiles. It stood at -0.3%, much lower than the expectation of 0.2%. The higher the retail sales, the better it is for the economy.
PPI (Purchasing Managers' Index) stood at -0.4%, which was lower than the forecast figure of 0.1%. PPI, which comes out every month, measures the change in the price of finished goods and services sold by producers. Retail sales were also unchanged.
These negative numbers would give a lift to precious metals since they're famously used as safe havens.