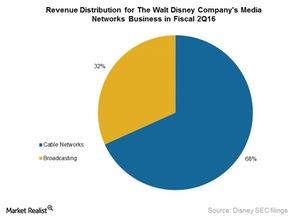 Is Disney's ABC Network Changing Its Business Strategy?
By Shirley Pelts

Aug. 10 2016, Updated 9:04 a.m. ET
Disney's ABC Network
Late last month, The Walt Disney Company (DIS) announced that ABC News had tied up with Facebook (FB) to stream the Republican and Democratic National Conventions live through the Facebook Live feature.
As part of this agreement, Facebook would provide ABC News with "exclusive, real-time data" that could be used across Disney's "broadcast and digital platforms."
Disney's ABC-owned television stations tied up with POPSUGAR to cover the Republican and Democratic National Conventions. Last month, Disney also re-launched its ABC streaming app with a new user interface and 38 "throwback" television shows. The company also added a recommendation feature to the app that would suggest shows based on viewer behavior.
Article continues below advertisement
Disney expects the new version of its ABC streaming app to prove attractive for advertisers. It stated that the platform would be "great for our advertisers to run their traditional advertising, their 15- and 30-second ads, and now what we also can do is work with partners and bring their products into our short-form content."
Disney's ABC Network is part of the company's Media Networks business. The Media Networks business earns most of its revenue from affiliate fees and advertising.
As the chart above indicates, Cable Networks made up 68% of the company's Media Networks revenue, while Broadcasting made up the remaining 32%.
Importance of the ABC Network for Disney
Disney's recent tie-up with Facebook and the re-launch of the ABC streaming app suggest that the company is trying to win back Millennial viewers with its content.
At the MoffettNathanson Media & Communications Summit in May this year, Disney stated that while the ABC Network does bring in significant advertising revenue, the company doesn't view it as a business or distribution network. Disney also mentioned that currently, around 80% of ABC's programming is owned by the network itself or is being produced by in-house production units.
Disney further stated that the network is in the business of creating valuable intellectual property, which has made it a strategic asset for the company. The ABC Network produces original programming for other platforms such as Netflix (NFLX) and sells the programming globally.