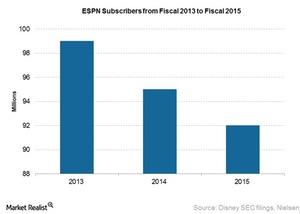 Disney Takes ESPN Direct-to-Consumer with Its BAMTech Investment
By Shirley Pelts

Updated
Disney's investment in BAMTech
On August 9, 2016, The Walt Disney Company (DIS) announced that it had acquired a minority stake of 33% in BAMTech, a video streaming company formed by MLB (Major League Baseball).
Disney acquired the stake for $1 billion paid in two installments. One installment was paid at the time of the transaction, and the next installment will be paid in January 2017. Disney will also have the option of acquiring a majority stake in BAMTech as part of this agreement.
Disney explained the rationale behind this investment on its fiscal 3Q16 earnings call. The company also stated that through its investment in BAMTech, it's planning to launch a new, direct-to-consumer, streaming subscription service for ESPN.
The company further explained that through its investment in BAMTech, its goal is "to ensure that our brands, notably ESPN, remain strong, vital and relevant in a totally changed media landscape."
Article continues below advertisement
Disney stated that ESPN would be part of AT&T-DirecTV's (T) OTT (over-the-top) service. Disney also said that it had plans to launch ESPN's direct-to-consumer service by the end of 2016, and that the service would include content from BAMTech, including MLB and sports programming from ESPN such as college sports, football, and basketball.
Disney has also specified that it isn't aiming to take "product off ESPN's current channels but to use sports and product that ESPN has already licensed that's not appearing on the channels."
The company didn't say whether it would launch the service internationally, and it didn't discuss pricing.
Why is Disney taking ESPN direct?
One reason behind Disney's direct-to-consumer ESPN service could be ESPN's falling subscriber base. As the chart above indicates, the number of subscribers for ESPN fell from around 99 million in fiscal 2013 to 92 million in fiscal 2015. This indicates that Millennials are increasingly viewing content online, and Disney hopes to attract them back to ESPN via the direct-to-consumer route.