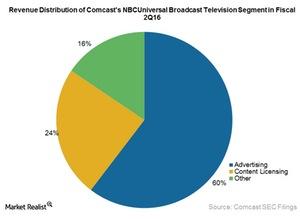 How Dish Network Sees the FCC's Stand on Retransmission Consent Fees
By Shirley Pelts

Updated
Retransmission consent fees
In recent years, Dish Network (DISH) has become embroiled in disputes with broadcasters and networks over carriage, or retransmission, fees. Currently, Dish Network is engaged in a dispute with Tribune Broadcasting.
In a July 2016 blog post, the FCC's chairman, Tom Wheeler, announced that the FCC would not frame additional rules regarding retransmission consent fee negotiations between MVPDs (multichannel video programming distributor) such as Dish Network and television networks such as Viacom (VIAB).
Last month, Dish Network had also opposed broadcasters' demands for higher retransmission fees at a US Senate hearing. Dish stated that retransmission fees rose by 22,500% between 2005–2015. Dish was asked about its opinion regarding the FCC's stand at the company's 2Q16 earnings call.
Article continues below advertisement
Dish's opinion of the FCC's stand
Dish Network's chairman and CEO, Charles William Ergen, stated during the company's earnings call that considering the FCC has always been consumer-centric, retransmission consent fees affect pay-TV consumers in a significant way. Ergen added that it would be better for "companies to talk to each other and reach deals…and not have government involvement."
Ergen noted that Dish Network considered "baseball arbitration" to be an effective mechanism to resolve retransmission consent disputes. Ergen clarified this term, stating, "By baseball arbitration, I mean each side picks a number of what they think they should be paying, and the arbitrator has to pick one of those two numbers.
"And when you do that, people get pretty close before you ever go to arbitration, and nine times out of ten, they resolve the issue without that. It's just a stimulus to get to a deal that makes sense in the first place without—and the consumer never loses their channel."
For companies such as Comcast (CMCSA), retransmission fees make up a significant proportion of their revenues. As the above graph shows, other revenues (including retransmission fees) made up 16% of Comcast NBCUniversal Broadcast Television's total revenue of $2.1 billion in 2Q16.