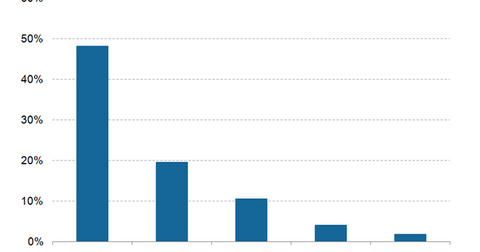 Why Dish Network Believes that Sling TV Could Drive High EBITDA
By Shirley Pelts

Updated
Sling TV
As Millennials are increasingly moving to OTT (over-the-top) services, pay-TV companies like Dish Network (DISH) are also focusing on OTT services. Dish Network's OTT offering is Sling TV.
Recently, Dish Network revamped its Sling TV service. In June 2016, Dish Network unveiled two packages for Sling TV: Sling Orange and Sling Blue. Sling Orange is a basic single-screen package priced at $20, and Sling Blue is a multi-screen package priced at $25 per month. Sling TV subscribers can buy both Sling Orange and Blue for $40 per month.
Article continues below advertisement
The revamping of Dish's Sling TV service could give Millennials an option besides SVOD (subscription video on demand) services such as Netflix (NFLX). According to a Digitalsmith's 4Q15 video trend report and as the above graph shows, Netflix leads the OTT market with a 48% share, followed by Amazon (AMZN) with 20%.
However, Dish Network's chairman and CEO, Charles William Ergen, stated at the company's fiscal 2Q16 earnings call it does not consider its Sling TV to be a "finished product." This is because the company has yet to roll out the RS-DVR (remote storage digital video recorder) technology for Sling TV.
Ergen added that the company's OTT team "still [has] standards they have to set for dynamic ad insertion, which is another revenue opportunity for our content partners and for Sling. And they still have to prove they can take a big event and get millions of people watching without significant service interruptions."
OTT could be the engine for high EBITDA
Ergen believes that "OTT has a bright future" and if successful, could very well propel the company to be a "high-growth EBITDA"[1. earnings before interest, tax, depreciation, and amortization] company. He added that the company views the OTT trend as a "growth opportunity" and it could "grow EBITDA in the linear business, but it would come at the expense of cash flow, so given those choices, we would tend to go more towards cash flow."