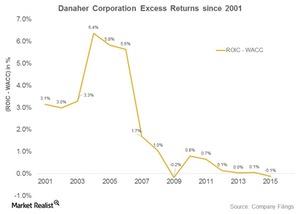 Danaher Corporation's Excess Returns Fail to Impress
By Shannon Black

Nov. 20 2020, Updated 3:52 p.m. ET
Why ROIC alone isn't a sufficient condition to judge returns
In the previous two parts in this series, we looked at Danaher's (DHR) return on invested capital (or ROIC) on a standalone basis. However, we were only looking at half the story.
For example, let's assume that the ROIC of Company A is 15%, and the ROIC of Company B is 10%. Is this a sufficient condition to conclude that Company A is creating more value than Company B? What if the weighted average cost of capital (or WACC) of Company A is 20%, and that of Company B is 5%?
By generating 15% in ROIC, Company A is actually destroying value, as its WACC is much higher at 20%. On the other hand, Company B, despite its low ROIC, is creating excess returns over its WACC, therefore creating more value for its shareholders.
Article continues below advertisement
Danaher's WACC and ROIC
For our analysis, we've looked at average yearly WACCs according to Bloomberg. Danaher's excess returns have been below 1% every year since 2008. This is a far cry from its average excess returns of 4.1% in the 2001–2007 period. 
This can be attributed to the fact that while WACC has been fairly stable over the 15-year period, the company's ROIC has fallen sharply from its 2006 highs.
Peer comparison
The average excess returns of companies in the healthcare (IHF) equipment industry within the S&P Global 1200 Index was 3.6%. With an excess return of 1.2%, Danaher was ranked 29th out of 43 healthcare equipment (IYH) companies based on its excess returns.
Among US companies, the excess returns of Varian Medical Systems (VAR) and HCA Holdings (HCA) were ranked the highest, at 11.8% and 9.6%, respectively.
Investment decisions are based on a company's ability to generate returns in the future rather than in the past. This can only be understood by analyzing the business of the company, the industry's structure, and the long-term potential for the company's products.
We'll be analyzing these details by looking at each of Danaher's segments in the second series of this company overview, which will be published by September 2, 2016. To stay updated in the meantime, investors can subscribe to our industry newsletter.
Those interested in some of our other overviews on diversified companies may want to check out our series on Honeywell, 3M Company, and Deere & Company.