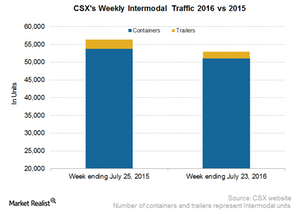 How Is CSX's Intermodal Traffic Looking as of July 23?
By Samuel Prince

Updated
CSX's intermodal traffic
In the week ended July 23, 2016, CSX Corporation's (CSX) total intermodal traffic fell by 6.03%. Intermodal volumes declined from ~56,000 units in the week ended July 25, 2015, to ~53,000 units in the week ended July 23, 2016. Container volumes plummeted by 5%, and trailer traffic tanked by 27.2%.
Article continues below advertisement
Why intermodal matters for CSX
Railroads (GWR) are four times more fuel efficient than trucks (JBHT), and about half of US rail intermodal volume consists of imports and exports. Railroads are more environmentally desirable than the heavy reliance on highways for freight transport. Last year, intermodal accounted for ~20% of total revenues for major US railroads (UNP).
Why does this matter? Intermodal is being considered as a solution to subsidize the shrinking coal (ARLP) business by all the US Class I railroads. Notably, intermodal volumes made up roughly 42% of CSX's total volumes, but intermodal's share of revenues in 2015 was ~15%.
Key factors affecting intermodal traffic
Intermodal traffic is largely dependent on factors like access to major seaports, highway-to-rail conversions, exclusivity to certain ports, and retail sales. The AAR (Association of American Railroads) has observed a strong positive correlation between retail sales and rail intermodal in recent years.
The AAR has also noted that intermodal growth has come through highway conversions rather than through consumption, but according to AAR, the rise in intermodal doesn't essentially translate into retail sales growth.
ETF investment
Investors looking for exposure to the transportation space can check out ETFs like the Morningstar Wide Moat ETF (MOAT), which has all major US-originated railroads in its portfolio.
You can compare this week's rail data from the previous week in How Did Rail Traffic Fare in the Week Ending July 16.
Continue to the next part for a look at Union Pacific's (UNP) railcar traffic for the week ended July 23.