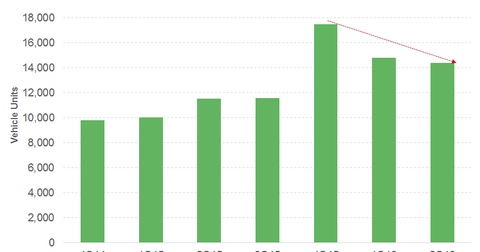 Could Tesla's Vehicle Deliveries Impress Investors in 2H16?
By Jitendra Parashar

Updated
Tesla's vehicle deliveries in 2Q16
Tesla Motors (TSLA) delivered 14,402 vehicles during the second quarter of 2016. With this, Tesla's 1H16 deliveries stood at 29,212 vehicles. Now, let's discuss why these vehicle deliveries were not enough to impress Tesla investors and what to expect from 2H16 deliveries.
Article continues below advertisement
Slowing deliveries
In 1Q16, Tesla delivered 14,810 vehicles, an increase of ~47% from the 10,045 vehicles delivered in 1Q15. Although this positive year-over-year delivery growth looked quite impressive, it's still below the 17,478 vehicle deliveries in 4Q15. The company began Model X deliveries toward the end of 3Q15.
Similarly, the company's vehicle deliveries in 2Q16 fell further quarter-over-quarter. Note that Tesla is currently a growth company and trying to boost its vehicle production and deliveries. Therefore, it's important to look at its quarter-over-quarter deliveries growth rather than year-over-year growth to get a clear picture of the existing trend.
Article continues below advertisement
Did production improve?
In 2Q16, Tesla produced 18,345 vehicles. That's about 1,529 vehicles per week on average, which is 20% higher than the production rate in the previous quarter. However, this production rate was lower than the company's expectation of 2,000 vehicles per week. Tesla cited a steep production ramp-up for this lower-than-expected production rate.
At the same time, the company also highlighted in its shareholder letter that it was able to achieve a production rate of 2,000 vehicles per week by the end of 2Q16. Tesla also expects to produce 2,200 and 2,400 vehicles per week in 3Q16 and 4Q16, respectively.
What to expect in 2H16
At the beginning of 2016, Tesla guided to deliver 80,000–90,000 vehicles in fiscal 2016. However, in a press release published on July 3, 2016, the company suggested that it expects to deliver about 50,000 vehicles in the second half of 2016.
This means even after delivering these 50,000 vehicles in 2H16, the company will be just below the lower range of its guidance for 79,212 vehicles in fiscal 2016.
However, if the company could achieve even a production rate of 2,200 vehicles per week in the coming quarters, then its vehicle deliveries should easily exceed the given guidance of 50,000 in 2H16.
In the next part, we'll find out how Tesla's gross margins were in 2Q16.