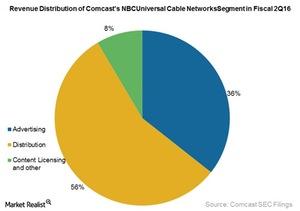 How Is Comcast Positioning Its Cable Channels?
By Shirley Pelts

Updated
Positioning of cable channels
When it comes to distributing its channels, Comcast (CMCSA) is working on a strategy to concentrate on its big brands when it comes to its cable channels. The company elaborated on this strategy in its fiscal 2Q16 earnings call.
Comcast stated in the call that as discussions with MVPDs (multichannel video programming distributors) get more "contentious" regarding affiliate fees, the company is going to "make sure that your big networks are fully supported and you are more willing to reallocate. Normally when you do those reallocations they are not all that negative for the content owner because you can take some of the programming and fees and ad sales and move them, consolidate them on some of your bigger networks."
Article continues below advertisement
Comcast further said that it's going to continue trimming marginal channels when it comes to distributing them to MVPDs and OTT (over-the-top) operators such as Netflix (NFLX). The company added, "There's just too many channels. And people are spending too much programming channels that are not fully distributed and you'd much rather put your money and have Mr. Robot on USA and have The Voice and Blindspot on NBC and really go with your strong networks."
However, Comcast reiterated that this trimming of channels is unlikely to affect the profitability of its Cable Networks segment.
NBCUniversal Cable Networks
Comcast's Cable Networks had revenues of $2.6 billion in fiscal 2Q16, an increase of 4.7% year-over-year. Its primary revenue growth driver was an increase in distribution revenues due to contract renewals and an increase in contractual rates.
This segment also saw its content licensing revenues increase by 13% as a result of what the company called "timing of content provided under licensing agreements." As you can see in the above graph, distribution revenues comprised 56% of Cable Networks' total revenues.