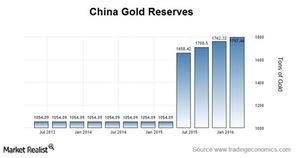 No Longer a Secret, China's Gold Holdings Show Hefty Increases
By Meera Shawn

Updated
Nondisclosure for many years
For many years, China resorted to nondisclosure policy with respect to its gold holdings. However, China ended years of speculation about its official gold holdings by revealing an almost 60% jump in its reserves since 2009.
In the summer of 2015, the Peoples Bank of China began sharing its gold purchasing activity on a monthly basis for the first time since 2009. The country's central bank said its gold reserves reached 1,658 tons at of the end of June. In April 2009, its reserves were 1,054 tons.
Article continues below advertisement
Yuan-denominated gold
Meanwhile, the Chinese yuan has been added to the International Monetary Fund's reserve's currency along with other major currencies like the US dollar, the euro, the Japanese yen, and the British pound. For such inclusion, China has likely been stocking up on gold. In related news, China introduced a new yuan-denominated gold fix for enhancing its pricing power over the metal.
China's gold reserves increased to ~1,797.5 tons in the first quarter of 2016 from ~1,762.3 tons in the fourth quarter of 2015. But gold only represents only 2.2% of the Chinese foreign reserves, so it's probably safe to expect more heavy buying going forward. 
Recently, Russian and Chinese central banks have been the top buyers of gold, exceeding all other markets. (We'll look at the Russian gold reserves in the next part of this series.)