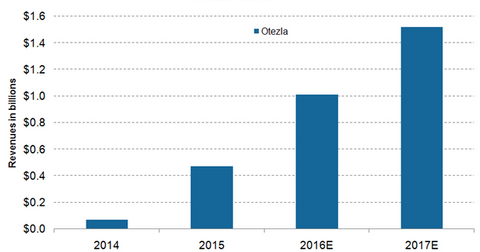 CELG's Otezla Continues Dominating US Inflammation and Immunology
By Margaret Patrick

Aug. 17 2016, Updated 10:04 a.m. ET
Otezla demand
Celgene's (CELG) inflammation and immunology drug Otezla has been witnessing strong demand both in the United States and in other new markets in Europe. This has been evidenced by Otezla's sales in 2Q16, which were around $242 million—a year-over-year (or YoY) rise of around 170% and sequential growth of around 24%.
In the US market, total weekly prescriptions for Otezla have surpassed those written for competitor drugs such as Johnson & Johnson's (JNJ) Stelara (through its subsidiary Janssen Biotech), Novartis' (NVS) Cosentyx, and Eli Lily's (LLY) Taltz.
Celgene has negotiated reimbursement for Otezla in 14 European markets. Negotiations with remaining European markets are expected to complete by 3Q16, while it expects approval for Otezla in the Japanese market by the end of 2016. This will further boost Otezla's revenue in 2017.
Article continues below advertisement
Sales projections
Wall Street analysts have projected that Otezla's sales will rise by ~114.4% YoY, from around $472 million in 2015 to $1 billion in 2016. This projection is in line with Celgene's guidance for Otezla's expected sales in 2016. The company expects to earn revenue of more than $1 billion from Otezla's sales in 2016.
Wall Street analysts also expect the drug's sales to rise by 50.4% YoY and reach $1.5 billion in 2017. To know more about Otezla's growth prospects, please refer to Otezla Captures Psoriasis and Psoriatic Arthritis Market Shares.
In the US market, Otezla has benefitted from increased brand awareness, brought about by multiple physician and consumer campaigns. Otezla is also a leading therapy in the new-to-brand market for inflammation and immunology drugs.
If Otezla manages to become a blockbuster therapy in 2016 by crossing the $1 billion revenue mark, it could boost Celgene's share price as well as the price of the iShares S&P 500 Growth ETF (IVW). Celgene makes up about 0.91% of IVW's total portfolio holdings.
In the next article, we'll explore Celgene's research programs for ozanimod in 2016.