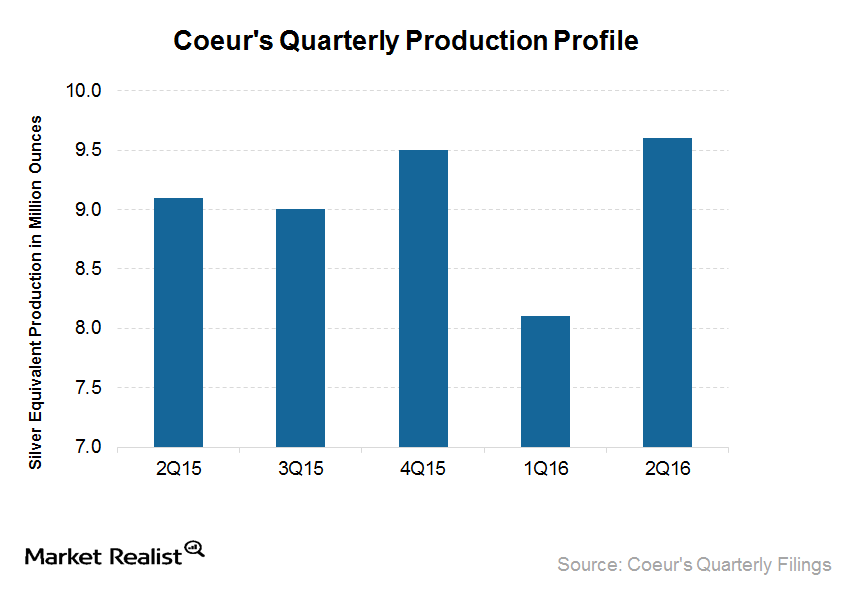 What Are the Catalysts for Coeur Mining's Production Growth?
Production guidance
In 2Q16, Coeur Mining's (CDE) silver and gold productions were slightly higher than Market expectations. It produced 4.0 million ounces of silver and 92,726 ounces of gold. Volumes were helped by strong operating performances from the Palmarejo and Rochester mines.
The company has, however, maintained its 2016 operating production guidance. It expects to produce 14.5 million–15.8 million ounces of silver and 320,000–347,000 ounces of gold in 2016.
Article continues below advertisement
Mine-by-mine production
The Palmarejo Complex is Coeur Mining's silver and gold mine in Mexico. In 2Q16, Palmarejo produced 1.3 billion ounces of silver and 18,731 ounces of gold. This production was above expectations since Guadalupe achieved 2,200 tons per day (or tpd) compared to 1,850 tpd in 1Q16.
Coeur implemented several process enhancements in 2015 that are now leading to higher recovery rates. The mining of open-pit and old underground is continuing at lower rates, and the company expects it to cease by mid-2016. Coeur maintained its 2016 production guidance of 3.8 million–4.3 million ounces of silver and 67,000–72,000 ounces of gold.
Coeur also delivered better-than-expected volumes at Rochester, Nevada, due to increased tons placed and crushing rates during the quarter. The company said that as crushing rates and tons increase, production is expected to accelerate throughout the year.
At its Kensington, Alaska, operations, ore grades have been climbing higher with 0.22 grams per ton compared to 0.18 grams per ton in 1Q16. The company mentioned that the development of a decline in the high-grade Jualin deposit is progressing well and is 50% complete.
Peer production
Coeur's peers (SIL), including Pan American Silver (PAAS), Hecla Mining (HL), Silver Standard Resources (SSRI), and Newmont Mining (NEM), are also trying to increase their productions at the lowest possible costs.
As we've already seen, Coeur's 2Q16 production was slightly higher than expectations. In the other parts of this series, we'll see how Coeur's spend at exploration could drive its long-term production.