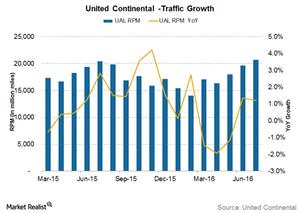 Can United Continental Fill All of the Seats It Added?
By Ally Schmidt

Aug. 24 2016, Published 1:37 p.m. ET
Traffic growth
In July 2016, United Continental's traffic grew by 1.2% YoY (year-over-year), higher than its capacity growth in the same period. By July 2016, UAL's traffic had grown minimally YTD compared with the fiscal 2015 average traffic growth of 1% YoY.
Airline traffic is measured by RPM (revenue passenger miles), calculated by the number of revenue passengers multiplied by the total distance traveled.
Article continues below advertisement
Domestic market
United Continental's (UAL) domestic market traffic saw slow growth, the defying previous month's trend. For July 2016, UAL's domestic traffic grew by 0.2% YoY. In July 2016, the domestic region grew by 1.1%. Legacy players Delta Air Lines (DAL), American Airlines (AAL), and Alaska Airlines (ALK) also saw good growth on domestic routes.
Latin America drives international growth
UAL's international traffic grew by 2.2% in July 2016, contributed to by Latin America and the Pacific region. Latin America grew by 8.7% YoY in July 2016 while the Pacific region grew by 6.7% YoY. Traffic growth in both markets was higher than the capacity growth in the respective regions. Atlantic market traffic, on the other hand, dropped by 1.9% YoY in July 2016. UAL forms ~1% of the First Trust Large Cap Value AlphaDEX ETF (FTA).
Outlook
For fiscal 2016, UAL expects its traffic growth to fall behind its capacity addition. This will most likely impact utilization and yields, which we'll discuss in our next article.