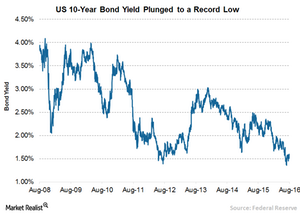 Why a Black Swan Event Is a Possibility
By VanEck

Aug. 16 2016, Updated 9:06 a.m. ET
As central banks buy up more bonds and more bonds move into negative yields, investors search among a smaller pool of substitutes and trades get crowded for higher risk alternatives. According to the Wall Street Journal, higher prices for stocks, bonds, and real estate have caused net wealth to swell to over 500% of national income in the US. This has happened only twice historically—just before the tech bust and just before the housing bust.
Article continues below advertisement
By definition, black swan [1. A black swan event is an event or occurrence that deviates beyond what is normally expected of a situation and is extremely difficult to predict. These events are typically random and are unexpected.] events are nearly impossible to predict. However, with the imbalances and extremes present in the markets today, we must assume that the odds are increasing for an unforeseen calamity. The further bond prices rise (and rates fall) the greater the risk is to bond values from even moderate increases in inflation and interest rates. One possible crisis scenario might involve higher than expected consumer price inflation that crushes negative yielding bonds, causing liquidity to dry up as investors rush for the exits and sell assets to cover losses.
Mervyn King, Governor of the Bank of England from 2003 to 2013, was interviewed in the World Gold Council's June edition of Gold Investor and said, "The risk is that we just muddle through with a prolonged period of very low growth. The longer that goes on, the more output we will have lost in the interim. And in the long run, it makes another crisis more likely because, if everyone is relying on monetary policy and it isn't the answer, we won't get back to a new equilibrium. We do need to make that jump at some point so the question is do we get there as a result of active, conscious policy decisions and cooperation between countries or will it only happen as the side-effect of another crisis."
Article continues below advertisement
Market Realist: Possibility of an unforeseen calamity
A recent bond (BND) buying spree by central banks around the world is reducing the supply of government bonds on the market. This has triggered competitive bidding from investors, driving prices much higher and yields lower, even into negative territory. The yield on the US ten-year Treasury note, for example, hit a record low recently, while the yield on the 20-year Japanese government bond dipped into negative in July, reaching a record low.
Negative-yielding bandwagon
Likewise, many other government bonds (AGG) joined a low or negative-yielding bandwagon this year. German government bonds maturing in 2031 are trading at a negative yield while all the Switzerland government bonds turn negative in June. The yield on the long-term 2064 bond has dipped below zero for the first time.
Article continues below advertisement
High-risk alternatives
As negative-yielding bonds spread across the board, investors have begun seeking higher returns turn to risky assets, inflating their prices further. As mentioned in the previous article, the S&P 500 (SPY) (IVV) has reached its record high and is trading at a much higher valuation than its historical average. Likewise, home prices (ITB) are gradually inching higher and are just 2% away from their highs recorded in 2006, and commercial property values have already hit record highs.
Black swan event
Inflated asset prices raise the concern of a sharp reversal in the market. Recent history shows that the technology bust and the housing market crash occurred due to collapse in asset prices. The current liquidity-driven rally in all the asset classes raises a risk of an unforeseen calamity.
In the next part, we'll take a closer look at what investors have been up to in the face of this current volatile environment.