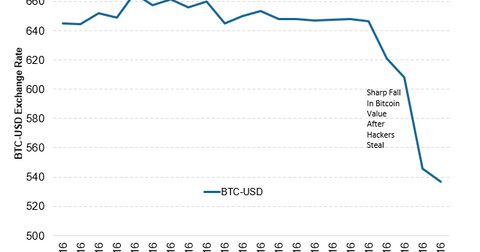 Bitcoin Prices Fall, Hackers Reportedly Stole Bitcoins Worth $65 Million
By David Meyer

Updated
Bitcoin—the digital currency
Bitcoin, one of the most commonly used digital currencies, fell by close to 15% over the last four trading sessions. Bitcoins are widely used for online payments. For more details on the history and evolution of bitcoins, read How Bitcoins Have Evolved. The news coming out of a security breach caused panic in markets. The bitcoin-US dollar pair fell from 608.00 during the opening hours of August 2 to a low of 465.00. However, there was some recovery towards the end of the day. The pair closed August 2 at 545.90.
Article continues below advertisement
Bitfinex reported a security breach worth $65 million
The fall in the bitcoin value was primarily due to the security breach caused by hackers in the Hong Kong-based Bitfinex exchange. According to the exchange, the hackers stole ~120,000 bitcoins—this amounts to $65 million. This accounts for nearly 0.75% of the total bitcoins in the market. The security breach resulted in a suspension of trading in the Hong Kong-based exchange. There was a similar security breach in 2014—hackers managed to make MtGox, the Tokyo-based Bitcoin exchange, file for bankruptcy after they stole over $500 million worth of bitcoins.
Impact on the bitcoin related stocks
Companies like WPCS International (WPCS) will be among those most sensitive to updates on bitcoins since they own a bitcoin trading platform. It fell by 4.8% after the news of the bitcoin heist broke out. Other stocks that would be impacted are pro-bitcoin companies like Tesla Motors (TSLA), Zynga (ZNGA), and eBay (EBAY). They fell by 1.2%, 1.0%, and 1.5%, respectively, on August 2, 2016.
Looking at major e-commerce companies, PayPal Holdings (PYPL) and Alibaba Group Holdings (BABA) fell by 1.4% and 0.64%, respectively. However, Groupon (GRPN) ended the day higher by 0.47%.