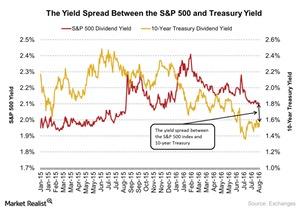 Why Bill Miller Chose the S&P 500 Index over the 10-Year Treasury
By Sarah Sands

Aug. 17 2016, Updated 8:08 a.m. ET
The dividend yield of the S&P 500 Index and ten-year Treasury
According to Bill Miller, the equity market (SPY) is a good choice compared to the bond market (BND) (TLT) for investors who are looking for an attractive return. In the current market scenario, he believes the particular sectors in the equity market (QQQ) (IVV) will provide good returns.
The dividend yield of the S&P 500 Index (SPY) is currently at 2.1%, while the dividend yield on the ten-year Treasury is at 1.6%. The dividend yield of the S&P 500 index grows with recovery in the corporate earnings. The index also simultaneously grows with the better economic prospects. However, the Treasury yield (SHY) behaves in a different way. It normally falls when the uncertainties rise in the economy.
Article continues below advertisement
Differences between the S&P 500 Index and ten-year Treasury
According to Miller, an investor could get a return of 18% in the S&P 500 Index (SPY), while the Treasury could provide a return of 1.5%. The spread between these two instruments is the focus point for Bill Miller. Taking a position in the equity market will be riskier, but investors could get a good return on an annual basis.
In the next part of this series, we will analyze what Bill Miller's view is on the different sectors of the S&P 500 index.