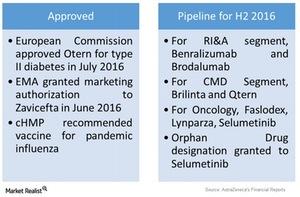 AstraZeneca's Recent Product Developments
By Mike Benson

Updated
Recent product developments
AstraZeneca (AZN) has four drugs that recently received approvals from regulatory authorities. Four other drugs from AstraZeneca recently received regulatory designations. Let's look at the details for those approvals and designations.
Article continues below advertisement
Approved drugs
The three drugs that were recently approved or granted marketing authorization during 2Q16 by regulatory authorities are Qtern, Zavicefta, and Pandemic Live Attenuated Influenza Vaccine.
Qtern is a drug for the treatment of type 2 diabetes. It was approved by the European Commission on July 19, 2016. The drug was the first DPP-4 (dipeptidyl peptidase-4) and SGLT2 (sodium/glucose cotransporter 2) combination drug to be approved in the European Union. The FDA (U.S. Food and Drug Administration) has accepted an application for Qtern, and the drug is in the approval process.
Zavicefta is a drug for the treatment of intra-abdominal and urinary tract infections and other infections, including hospital-acquired pneumonia. The EMA (European Medicines Agency) granted marketing authorization to the drug on June 28, 2016. Zavicefta is expected to be approved in China in 2017.
The Committee for Medicinal Products for Human Use of the European Medicines Agency recommended conditional approval of MEDI-550, the vaccine for use in the prevention of influenza in the pandemic setting for children.
Drugs in the pipeline
The results for the following drugs in the pipeline are anticipated in the second half of 2016:
For its respiratory and autoimmunity drugs, benralizumab is under two Phase III trials for the treatment of severe asthma.
Brodalumab for the treatment of psoriasis has been recommended by the FDA's advisory committee for approval.
For cardiovascular and metabolic diseases, Brilinta is under Phase III clinical trials.
Qtern has been approved in European markets, and the application for approval has been resubmitted to the FDA.
For oncology, Faslodex's Phase III clinical trial reported positive data for the treatment of breast cancer.
Lynparza's Phase III clinical trial didn't meet the primary endpoints for the treatment of gastric cancer. However, the FDA has granted it fast track designation for the treatment of second-line ovarian cancer.
Selumetinib has received orphan drug designation for the treatment of differentiated thyroid cancer.
To divest the risk, you can consider ETFs such as the iShares Global Healthcare (IXJ), which holds ~2.0% of its total assets in AstraZeneca, 4.2% in Merck & Co. (MRK), 5.1% in Pfizer (PFE), and 2.4% in Allergan (AGN).