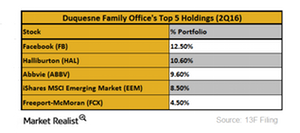 Assessing Duquesne Family Office's Holdings in 2Q16
Duquesne Family Office
Duquesne Family Office operates as an investment management firm. Billionaire investor Stanley Druckenmiller is the chair and CEO of the firm. According to the latest 13F filings, the firm's 2Q16 portfolio had a 23.8% allocation in the materials (XLB) sector, a 15.3% allocation in the health care sector (XLV), and a 14.6% allocation in the communications sector.
The firm's largest sector is the material sector, which is a cyclical sector. This position indicates that the firm is optimistic about the recovery in the business cycle. The firm also has holdings in the non-cyclical sector. There were minor changes in the firm's portfolio in 2Q16.
Article continues below advertisement
Firm's holdings
Facebook (FB) was the firm's top holding in 2Q16 after selling 1.1 million shares in the same quarter. The firm holds 0.93 million shares of Facebook worth $116 million. Facebook constitutes 12.5% of the firm's portfolio holdings. The largest investor in Facebook is Fidelity Management and Research with 147.8 million shares as of June 30, 2016.
The firm's top purchase was HDFC Bank (HDB) in 2Q16. The firm bought 0.23 million shares of this company in the same quarter. This stock represents 1.8% of the firm's portfolio. The firm has a sizeable holding in the iShares MSCI Emerging Markets ETF (EEM). The ETF represents 8.5% of the firm's portfolio. As we discussed in the last part of this series, the largest investor in emerging markets (VWO) is Bridgewater Associates.
In the next part of this series, we will analyze Greenlight Capital's holdings as of June 30, 2016.