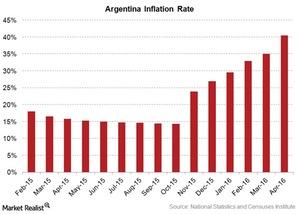 Is Argentina Back in the Game, or Are Dark Clouds Here to Stay?
By Surbhi Jain

Nov. 22 2019, Updated 6:46 a.m. ET
Argentina's equity has been rising, and so has inflation
Argentina's equity-tracking Global X MSCI Argentina ETF (ARGT) has returned about 25% to investors so far this year. The markets have gained well under the leadership of President Mauricio Macri, who took office in December 2015. Inflation has also risen to reach a whopping 40.5% as of April 2016. It was at 23.9% in December 2015.
The Global X MSCI Argentina ETF (ARGT), the iShares MSCI Frontier 100 ETF (FM), and the Guggenheim Frontier Markets ETF (FRN) are US ETFs with about 46.2%, 17.6%, and 9.0% portfolio exposure, respectively, to Argentina's capital markets.
Article continues below advertisement
Is Macri the silver lining in Argentina's dark cloud?
With appropriate and aggressive top-down reforms, Macri is focused on making the country stand out among the emerging markets (EEM) (VWO) (EMB). "Lack of access to credit has cost Argentina $100 billion and more than two million jobs that were not created," Macri said in a speech on March 1, 2016.
For more than a decade, the outgoing party's continual resistance to honoring debt led to Argentina's exclusion from international financial markets. Specifically, Macri's government is poised to amend Argentina's relationship with the West.
Macri has already done the following:
reached a settlement with US hedge fund billionaires to whom the country owed billions of dollars to take a 25% cut on their claim
allowed the peso to float freely, leading to a massive devaluation in the currency in an attempt to lure investments, with certain capital controls and restrictions still remaining
For example, investments in the economy are required to stay in the country for at least 120 days. With interest rates where they are, at an astounding 28.8%, if the country didn't have restrictions such as the 120-days rule, inflows into the country would be very different from what they are now.