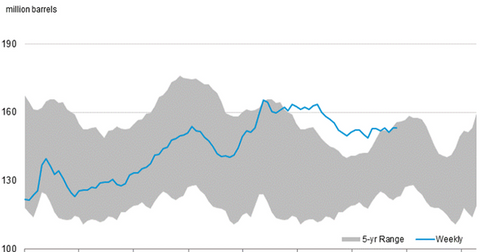 Analyzing European and US Distillate Inventories
By Gordon Kristopher

Aug. 25 2016, Updated 4:04 p.m. ET
US distillate inventories  
According to the EIA (U.S. Energy Information Administration), US distillate inventories rose by 100,000 barrels to 153.3 MMbbls (million barrels) from August 12 to August 19, 2016. Market surveys estimated that distillate inventories would fall by 834,000 barrels in the same period.
The unexpected rise in distillate inventories didn't have a negative impact on diesel fuel prices on August 24, 2016. October NY Harbor ULSD futures rose despite the bearish news due to the USGC's (US Gulf Coast) refining capacity being disrupted by the potential storm in the Atlantic. Futures rose by 0.6% and closed at $1.51 per gallon on the same day. For more information, read US On-Highway Diesel Fuel Prices Fell for the Ninth Week.
US distillate inventories are 2.3% higher than they were in the same period in 2015. They're also at the upper end of the range for the last five years.
Article continues below advertisement
European distillate stocks
OPEC's (Organization of the Petroleum Exporting Counties) Monthly Oil Market Report stated that Europe's distillate stocks fell by 1.2 MMbbls to 443.2 MMbbls in June 2016 compared to May 2016. This was 7.2% higher than in the same period in 2015 and 14.5% higher than the latest five-year average. High distillate inventories could pressure diesel fuel and heating oil prices.
US distillate production and demand  
US distillate production fell by 90,000 bpd (barrels per day) to 4,849,000 bpd from August 12 to August 19, 2016. Weekly distillate demand rose by 302,000 bpd to 3,790,000 bpd in the same period. US distillate imports rose by 132,000 bpd to 224,000 bpd in the same period.
Impact on stocks and ETFs  
High distillate inventories for this time this year could pressure diesel fuel and heating oil prices. Lower diesel fuel prices negatively impact the earnings of US refiners and crude oil producers such as Synergy Resources (SYRG), Western Refining (WNR), Valero Energy (VLO), and PDC Energy (PDCE).
The ups and downs in oil and gasoline prices impact funds such as the ProShares UltraShort Bloomberg Crude Oil ETF (SCO), the United States Gasoline ETF (UGA), the Vanguard Energy ETF (VDE), the iShares U.S. Energy ETF (IYE), and the VelocityShares 3x Long Crude Oil ETN (UWTI).
In the next few parts of this series, we'll take a look at the factors driving the rebalancing of the crude oil market. Let's start with US crude oil production.