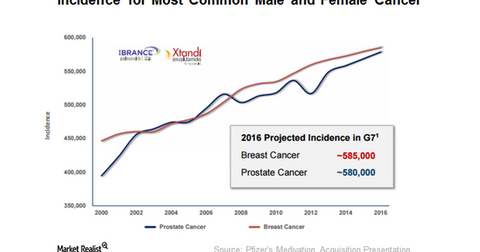 An Overview of Pfizer's Oncology Business
By Jillian Dabney

Sep. 2 2016, Updated 7:04 a.m. ET
Oncology business
The Oncology Therapeutics share in Pfizer's (PFE) Innovative Health (or IH) business is 15%. To establish a leadership position in the oncology space, Pfizer is focused on Ibrance, which is indicated for breast cancer, along with an emphasis on the immuno-oncology area and the Breakthrough pipeline.
Medivation's (MDVN) recent acquisition has enriched it with another asset—Xtandi, which is indicated for prostate cancer. With Xtandi and Ibrance, Pfizer will have two drugs that target the most common forms of male and female cancers. Pfizer's Oncology business includes its major contributor, Ibrance, along with Sutent, Xalkori, and Inlyta.
Article continues below advertisement
Ibrance
Since its launch in February 2015, Ibrance has already treated 35,000 patients. It's now approved in 14 countries along with the US.
Pfizer expects an approval for Ibrance in Europe by the end of 2016. Developing the drug beyond breast cancer should further fuel the drug's potential. We'll discuss the drug in detail in the next article.
By 2021, Xtandi—an addition from Medivation (MDVN)—should become the fourth-best-selling oncology drug in terms of worldwide sales. Ibrance should secure seventh place in the top ten oncology drugs. To understand Xtandi's potential to become a leading prostate cancer drug, please read Medivation Sees Growth in Xtandi: A Major Oncology Drug.
In terms of worldwide sales, Celgene's (CELG) Revlimid, Bristol-Myers Squibb's (BMY) Opdivo, and AbbVie's (ABBV) Imbruvica should be the three top-selling drugs.
If you invest in the Health Care SPDR ETF (XLV), you can benefit from positive movement in Pfizer's stock. XLV holds ~7.6% in Pfizer.