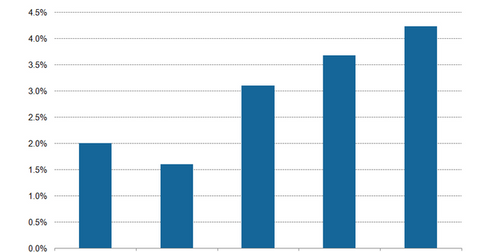 Why Amazon's Margin Trends Keep Improving
By Amit Singh

Updated
Amazon now generates steady margins
One of the key concerns for investors in the past was that Amazon.com (AMZN) kept flipping between profits and losses. The company had been in business for a long time, yet it hardly produced meaningful margins. This is now a thing of the past, because the company has now successfully managed to reverse its fortunes by showing consistent operating margins for the past five consecutive quarters.
What's even better is that Amazon's margins are expanding at a very high rate, as can be seen by the upward trend in the chart below. As for 2Q16, the company reported an operating income of $1.3 billion, which nearly tripled the operating income from one year previously. Meanwhile, its operating margin stood at 4.2%, showing an expansion of about 220 basis points YoY (year-over-year).
Amazon remains confident that it can repeat its margin performance in coming quarters. For 3Q16, Amazon expects that its operating income could be as high as $650 million, as compared to $406 million in 3Q15.
Article continues below advertisement
What's really driving Amazon's  margins?
Amazon's cloud business is growing at an astounding rate, and this is the primary reason behind the company's strong margins. The segment generates fast revenue growth, which provides leverage for the growth in the company's overall margins.
Also, third-party sellers benefit Amazon in a big way. The company doesn't have any product costs associated with these sales, yet it gets a commission from them. Thus, they're a great source of profit for Amazon.
Remember, third-party sellers are small-scale sellers that depend on big e-commerce players like Amazon, eBay (EBAY), and Alibaba (BABA) to sell their products. Although Amazon has not disclosed the percentage of third-party sellers on its platform in 2Q16, it did state that these sellers accounted for 48% of paid units on Amazon in 1Q16.
Now let's take a look at what Amazon has been up to in India.