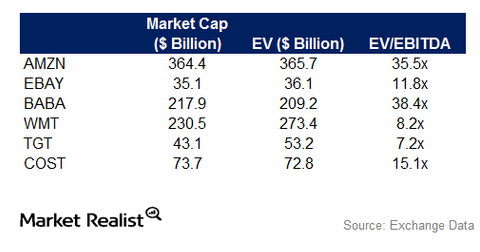 Why Amazon's Lofty Valuation Is Warranted
By Amit Singh

Updated
Comparable company analysis
As you can see in the table below, Amazon (AMZN) is the largest company by market capitalization among our set of select e-commerce and brick-and-mortar retailers. eBay (EBAY) is the smallest of the lot.
Key valuation multiples such as enterprise value when scaled by EBITDA (earnings before interest, tax, depreciation, and amortization) is higher for Amazon than the group average. However, despite the company's lofty valuations, its premium is warranted, considering its aggressive growth in the e-commerce space. It easily exceeds the performance of the online businesses of brick-and-mortar retailers such as Costco (COST), Target (TGT), and Walmart (WMT).
Article continues below advertisement
Amazon is a clear market leader in the e-commerce space
Amazon has a customer-centric business model. Its long-term approach to growth and expansion has helped it evolve into the market leader in the e-commerce space. Amazon's revenue has risen at a CAGR (compound annual growth rate) of 22% in the past five years, thanks to its flourishing e-commerce sales that have been driven by its Amazon Prime membership growth.
The company is witnessing strong growth in its number of Amazon Prime members. This is crucial for its growth, as it benefits the company in a number of ways. Amazon Prime gives it a competitive edge over its rivals by keeping its memberships intact with exclusive deals, videos, and fast and free shipping.
Amazon continues to increase its investments in the right areas and expand into emerging markets to generate higher growth. A growing number of third-party sellers on Amazon Marketplace and the popularity of Amazon Prime membership are expected to drive the company's growth in the coming years.