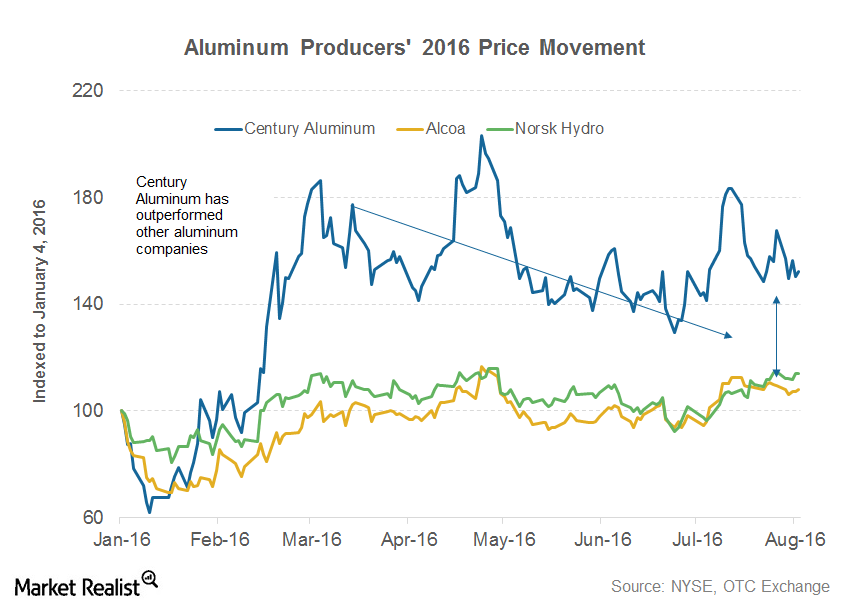 How Do Aluminum Producers Look Going into 3Q16?
Aluminum producers
The earnings season for 2Q16 is nearly over. Most aluminum companies have reported their earnings for the quarter. In this series, we'll look at major aluminum companies' 2Q16 earnings and production profile. We'll also analyze various companies' 3Q16 guidance and what they said about the industry outlook during their respective 2Q16 earnings calls. This will help you understand how these companies look going into 3Q16.
Article continues below advertisement
Price action
Most aluminum producers' earnings were received well by markets. Alcoa (AA) saw an upward price action of 5.4% after its earnings release. Century Aluminum (CENX) rose 7.5% after the company released its 2Q16 earnings. Norsk Hydro's (NHYDY) earnings were also received well by markets. Its stock rose ~6%.
Yearly returns
Century Aluminum was among the biggest losers in this space last year. It's trading with strong YTD (year-to-date) gains of 56%. Century Aluminum outperformed Alcoa and Norsk Hydro this year, as you can see in the above graph.
Higher commodity prices (DBB) helped primary producers' (ACH) price action in 2016. However, Alcoa hasn't followed other aluminum producers to higher price levels. Its correlation with aluminum prices has fallen this year. To learn more, read The Shackles of Aluminum Prices—and How Alcoa Has Already Broken Them.
One of the factors driving aluminum prices has been expectations of a deficit in global markets. A deficit means that demand exceeds production. In the next part of the series, we'll look at aluminum producers' 2Q16 production.