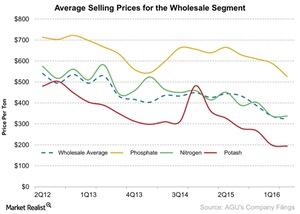 Why Agrium's Wholesale Average Realized Prices Have Tanked
Wholesale average prices
Average prices from Agrium's (AGU) Wholesale segment have increased YoY (year-over-year), but global prices for crop nutrients (MOO) like nitrogen, phosphates, and potassium have declined significantly over the years, impacting companies like Intrepid Potash (IPI), CF Industries (CF), and Mosaic (MOS). These declines have offset gains from increases in shipment volumes.
Article continues below advertisement
Crop nutrient prices
Agrium's average realized price for crop nutrients declined by 27.5% from $444 per metric ton in 2Q15 to $322 per metric ton in 2Q16. Average prices for nitrogen declined by 25% from $451 per ton to $337 per ton, whereas prices for urea fell the steepest—by 28% to $303 per ton from $419 per ton in 2Q15. Prices for ammonia, a key feedstock for other nitrogen fertilizers, fell by 24% to $443 per ton from $584 per ton one year ago.
Average realized prices for potash also declined significantly in 2Q16, by as much as 41% to $194 per ton YoY. Prices fell the steepest in domestic markets—by 41% to $219 per ton from $371 per ton YoY in 2Q15. Prices in international markets fell to $152 per ton, down from $243 per ton one year ago. Similarly, phosphate prices declined to $526 per ton from $665 per ton in 2Q15.
These significant price declines help explain why agricultural fertilizer companies have experienced such significant earnings declines this year. For this reason, you have to track fertilizer prices, which we at Market Realist publish on a weekly basis, as closely as possible. (Read the latest price update in our series Fertilizer Price Movements Last Week: Still Falling, Still Losing.)
In the next part, we'll analyze the gross margins of Agrium's Wholesale segment.