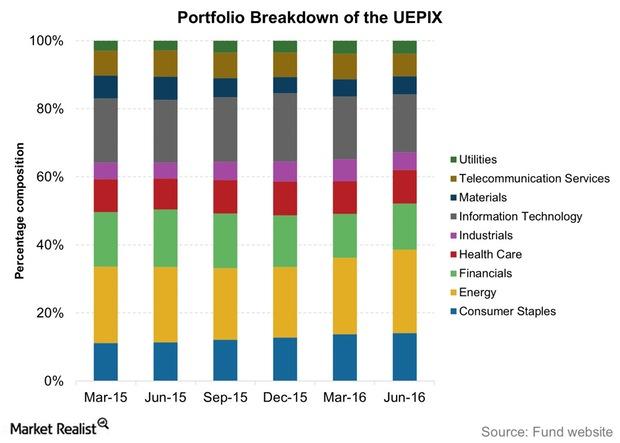 The Year-to-Date Sector Composition of the Europe 30 ProFund
By David Ashworth

Jul. 27 2016, Published 3:34 p.m. ET
Europe 30 ProFund overview
The Europe 30 ProFund Investor Class (UEPIX) is offered by ProFunds. The fund is benchmarked to the ProFunds Europe 30 Index and seeks to achieve investment results that correspond to the performance of the index.
The ProFunds Europe 30 Index has been created by ProFund Advisors and is composed of "companies whose principal offices are located in Europe and whose securities are traded on U.S. exchanges or on The NASDAQ Stock Market as depositary receipts or ordinary shares."
The index is rebalanced annually, which means that its constituents change every year. In this way, it does not adopt either a top-down or bottom-up approach in creating its portfolio.
As the fund's literature states, "The Fund seeks to remain fully invested at all times in securities that, in combination, provide exposure to the Index without regard to market conditions, trends or direction."
Article continues below advertisement
The fund's assets were spread across 30 holdings, the same as its underlying index, as of June 2016, and it was managing assets worth $9 million, making it the smallest fund in this review. As of its April 2016 portfolio, its top ten equity holdings included Telefonica (TEF), National Grid (NGG), Tenaris (TS), Rio Tinto (RIO), and Diageo (DEO).
Portfolio changes in the Europe 30 ProFund
The fund mostly invests in ADRs (American depositary receipts). Investors should remember that UEPIX is an index-tracking fund, but the index isn't publicly available and has been created in-house. Hence, when we talk about UEPIX's portfolio details, we're essentially discussing the underlying index.
UEPIX is invested across all but one sector: consumer discretionary. According to information available on the fund's website, energy is its largest sector, forming 24.5% of its assets as of June 2016. Information technology, consumer staples, financials, and energy form the core of the fund, making up 69% of its assets.
A look at the quarterly portfolios of the fund for the past three years up to June 2016 shows that its exposure to consumer staples, utilities, and energy has increased. On the other hand, healthcare, industrials, and materials form less of the portfolio than they did three years ago.
Let's see why UEPIX has fared the way that it has year-to-date.