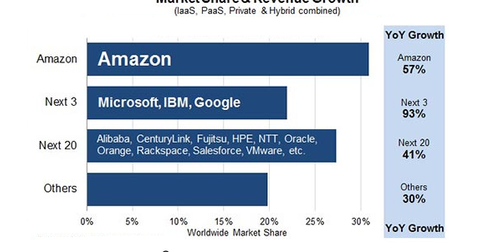 Will SAP's S/4 HANA Dominate the Company's Fiscal 2Q16 Results?
By Anne Shields

Updated
SAP's dependency on S/4 HANA
Previously in this series, we discussed analyst expectations for SAP's (SAP) soon-to-be-announced fiscal 2Q16 results. Like other enterprise software companies, SAP is keen on strengthening its presence in the cloud space.
In fiscal 1Q16, SAP's new flagship, the ERP (Enterprise Resource Planning) Business Suite 4 SAP HANA, continued to see increased adoption. In 1Q16, SAP gained more than 500 new customers for S/4 Hana. It now boasts more than 3,200 customers.

Article continues below advertisement
It's very likely that S/4 HANA will continue to dominate SAP's fiscal 2Q16 results as SAP's cloud strategy, which previously used to revolve around SAP HANA, is transferred to S/4 HANA. Notably, Philip Winslow, an analyst with Credit Suisse, feels that the market is underestimating SAP's HANA application suite. Winslow believes that SAP's stock could touch 90 euros per share, or $100.25, in one year.
SAP's new cloud offerings
During SAP's conference in Vienna from June 20–22, SAP launched various products to boost its presence in the cloud, including the following:
SAP Cloud Identity Access Governance, which was designed and developed to cater the demand for IDaaS (identity as a service)
SAP HANA smart data integration and SAP HANA smart data quality, which aim to enable organizations to benefit from Big Data by leveraging the cloud to store information and control costs
SAP Data Services, which helps customers shift their on-premise data to cloud platforms such as Microsoft (MSFT) Azure, Amazon (AMZN) S3, and Google (GOOG) Cloud Storage
SAP Information Steward software, which aid Hadoop data analysis
SAP Agile Data Preparation application, which aims to develop the self-service capabilities of customers
Factors that might halt SAP's growth
Through new offerings, SAP intends to broaden and strengthen its horizon in the cloud space. However, the cloud is a very concentrated and competitive place dominated by Amazon, Microsoft, IBM (IBM), and Google, which collectively command more than half of the cloud space. Moreover, continued weakness in Latin America (ILF) and Brazil, in particular (EWZ), has also added to SAP's woes.