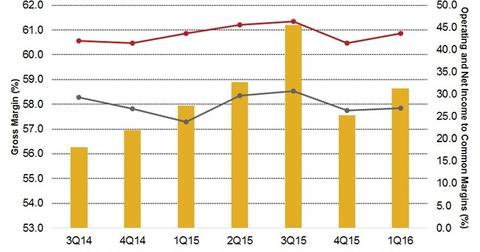 Will Higher Pricing Increase Altria's 2Q16 Operating Margin?
By Penny Morgan

Updated
1Q16 gross margin increase
Altria's (MO) 1Q16 gross margin rose to 58.6% compared to 57.9% in 1Q15. The increase benefited from higher pricing. The company's operating income rose 6.0% to ~2 billion in 1Q16 compared to $1.9 billion in 1Q15. The increase resulted from a rise in operating income for all reportable segments.
Article continues below advertisement
Operating income margin versus peers
Despite an increase in operating income, operating margin saw a slight decline. The operating margin decreased two basis points to 43.6% in 1Q16 compared to 43.7% in 1Q15. The impact on operating margin was due to higher pricing, volume, and the benefit of the federal tobacco quota buyout expiration, which was offset by lower volumes.
Similarly, Philip Morris International's (PM) 1Q16 operating margin fell 2.8% to 41.9% due to lower adjusted operating income mainly due to EEMA and Asia, and higher costs in support of reduced-risk products. For Vector Group (VGR), operating margin fell to 6.5% in 1Q16 compared to 7.8% in 1Q15.
However, Reynolds American's (RAI) 1Q16 operating margin increased eight percentage points to more than 45% while reported operating margin increased to 211.6% in 1Q16. This was due to the addition of the Newport brand and related divestitures to Imperial Tobacco Group (ITYBY), as well as strong results from RJR Vapor's Vuse Digital Vapor Cigarette and American Snuff's Grizzly brand.
Investments
Altria plans to protect margins through higher pricing realization, which would be in line with the long-term trend. The company plans to focus on innovation and investments. For example, Altria continues to focus on Black & Mild's strength in a more profitable tipped cigars segment, as it continued to deliver strong results in 1Q16.
MO makes up 4.9% of the PowerShares DWA Consumer Staples Momentum Portfolio ETF (PSL).[1. Updated as on July 17, 2016]
In the coming parts of this series, we'll discuss Altria's stock price movement and valuation multiple before it releases earnings on July 27, 2016.