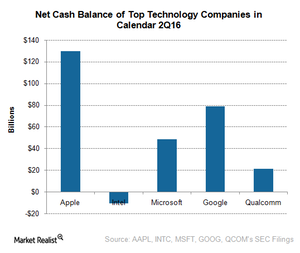 Why Softbank's ARM Acquisition Surprised the Semiconductor Industry
By Puja Tayal

Aug. 2 2016, Updated 9:04 a.m. ET
ARM's acquisition surprises semiconductor industry
Previously in this series, we discussed how IoT (Internet of Things) has strong growth potential and how many semiconductors, software, and telecom companies are interested in tapping into this growth. ARM Holdings (ARMH) designs low-power chips that are ideal for the majority of IoT devices. Qualcomm (QCOM), Apple (AAPL), and Samsung (SSNLF) are eyeing the IoT revolution, but none of them seriously considered acquiring ARM, because the latter was financially sound and never hinted at a willingness to sell its business. For this reason, SoftBank's acquisition of ARM came as a surprise to the entire semiconductor industry.
Article continues below advertisement
Potential bidders for ARM
Northern Trust Capital Markets analyst Neil Campling stated that the SoftBank-ARM deal has "no break-up fee, no lock in." This has opened doors for other companies to put in a competitive bid for ARM. He believes that Apple, Microsoft (MSFT), Google (GOOG), Intel (INTC), and Qualcomm could emerge as potential bidders for ARM.
Financial aspect
As the above graph shows, Apple, Microsoft, and Google have net cash of more than $40 billion. This means they are financially strong enough to acquire ARM at a higher price than SoftBank. Qualcomm has up to $20 billion net cash and could raise new debt if it decided to acquire ARM, but Intel is not in a position to undertake any major investment because its acquisition of Altera has increased its leverage.
From a financial standpoint, all the above companies are in a better position than SoftBank to acquire ARM, which has debt of $113 billion and plans to raise another $10 billion to fund the acquisition.
Business aspect
Apple and Qualcomm use ARM-based chips in the mobile space, and they are looking to tap into the IoT space. Qualcomm also stated that it is looking for a strategic acquisition to grow in the IoT and data center market, wherein ARM holds a 1% market share, and Intel holds a 97% market share. ARM aims to compete with Intel in this space and increase its market share to 10% by 2020. This aim makes ARM an attractive target for cloud service providers Google and Microsoft as they encourage competition in the server space.
From a business standpoint, ARM brings more value to the above companies, whereas ARM would bring fewer merger synergies for SoftBank.
On the other hand, Intel may only acquire ARM to ward off competition—it wouldn't necessarily use ARM chips, because this would destroy the market for its own x86 chips. We'll take a closer look at this in the next and final part of our series.