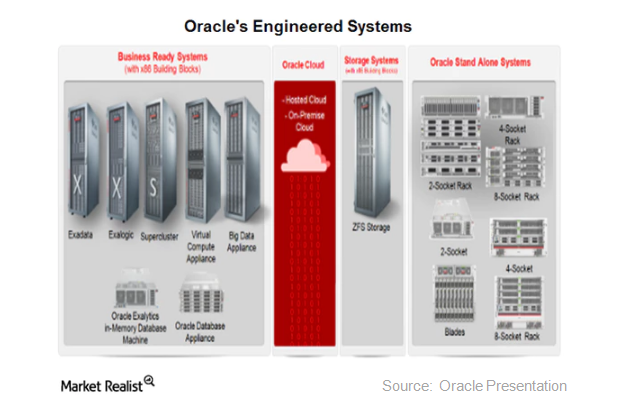 Why Did Oracle Partner with Mellanox?
Oracle partnered with Mellanox for InfiniBand
Previously in this series, we discussed Oracle's (ORCL) largest-ever bond offering of $14 billion. Oracle's recently announced fiscal 4Q16 and fiscal 2016 earnings results were all about the cloud.
To further enhance its presence and expertise in the cloud space, Oracle announced a partnership with Mellanox Technologies (MLNX) in late June 2016.
Both companies aim to enhance industry standards for InfiniBand, which is a high-speed cloud networking. Due to its performance, scalability, and efficiency, InfiniBand is a key ingredient to build super computers, known for rapidly processing massive amounts of data.
Article continues below advertisement
InfiniBand and Mellanox partnership
By partnering with Mellanox, Oracle would be able to push its cloud offerings and engineered systems with open technologies. According to MarketWired, "Oracle has chosen InfiniBand as the foundational technology for Engineered Systems to provide unparalleled performance and scale to Oracle's suite of business critical applications."
In collaboration with Google (GOOG), IBM (IBM), NVIDIA (NVDA), and Tyan Computer, Mellanox Technologies started an open hardware technology initiative in 2013 called the OpenPOWER Foundation.
Through the OpenPOWER consortium, hardware manufacturers can create processors that are tightly integrated to Power CPU (central processing unit) cores. Then, they can be used in HPC (high-performance computing) applications. It also enables Google, a hyper-scale organization, to use OpenPOWER hardware for their data centers.
Hardware Operating segment
Oracle's Hardware Operating segment's revenue is on a consistent decline, primarily due to a fall in the server market. Oracle has stated that its Engineered Systems segment accounts for more than 30% of hardware product sales, which are expected to rise to 50%.
Lately, the Engineered Systems segment has failed to find even a mention in the earnings release. The Oracle–Mellanox partnership, owing to the access and improvement in technology, might be beneficial for Oracle's Hardware segment.
You might consider investing in the SPDR S&P 500 ETF (SPY) to gain exposure to Oracle, which makes up 0.7% of SPY. Investors who would like application software exposure could also consider SPY, which holds ~7% of its portfolio in application software.