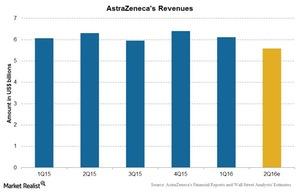 Why Analysts Think AstraZeneca's Revenues Will Fall in 2Q16
By Mike Benson

Updated
AstraZeneca's 2Q16 revenue
AstraZeneca (AZN) reported an increase of 1% in its top line to $6.1 billion in its 1Q16 results. However, analyst estimates show a decline of over 11% in 2Q16 revenues for AstraZeneca. As discussed earlier, the company is set to release its earnings on July 28, 2016.
The above graph shows the revenues of AstraZeneca in each quarter. As the company operates in over 100 countries and ~60% of total revenues come from outside US markets, the company has a great deal of exposure to currency risk.
Article continues below advertisement
The growth platforms
AstraZeneca reported a gradual shift in the percentage of contributions from key drugs like Nexium and Synagis to new products in growth platforms like Brilinta and new oncology products. The revenues from growth platforms contribute to over 50% of the company's total revenues.
Segment-wise performance
AstraZeneca's business is divided into four segments:
The cardiovascular and metabolic diseases segment contributes the most to overall revenues at ~38%. Analysts expect strong performances from Brilinta, Onglyza, Bydureon, and Farxiga to drive the growth of this segment for 2Q16 while there might be a decline in revenues of Byetta and legacy drugs Crestor and Atacand.
The infection, neuroscience, and gastrointestinal segment is the second largest revenue contributor for AstraZeneca, contributing ~22% of total revenues. The revenues for this segment are expected to decline following weak performances from drugs like Nexium and Seroquel.
The respiratory, inflammation, and autoimmunity segment is another important segment for AstraZeneca's growth platform. The segment revenues are expected to increase for 2Q16, driven by Pulmicort and new products including Duaklir, Daliresp, and Tudorza. However, lower sales of Symbicort will offset the growth during 2Q16.
The oncology segment is now included in the growth platform. New products like Tagrisso and Lynparza are expected to drive the growth of this segment in coming years. Analysts expect the revenues to grow for 2Q16, driven by a strong performance of Faslodex, which will be offset by lower sales of the legacy products including Zoladex, Casodex, Arimidex, and Iressa. Iressa is exposed to competition from other EGFR inhibitors including Tykerb from Novartis (NVS), Erbitux from Eli Lilly (LLY), and Vectibix from Amgen (AMGN).
Investors can consider ETFs like the First Trust Value Line Dividend ETF (FVD), which holds ~0.6% of its total assets in AstraZeneca.