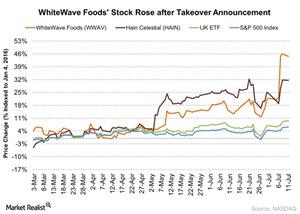 WhiteWave Foods' Stock Soared on Its Takeover Announcement
Stock soared 19%
On July 7, 2016, after the announcement of a definite merger agreement between Danone (DANOY) and WhiteWave Foods (WWAV), WhiteWave's stock soared by 19% to close at $56.23, compared to its previous day's closing price of $47.43.
The stock rose by another 1% on July 8 and closed at $56.64. The stock was trading close to its 52-week high of $56.82 on July 8. It had risen by as much as 45% in 2016 as of July 11.
WhiteWave rose by 12% in 2015 due to its ongoing positive earnings and revenue growth trends. The stock rose by 7% on May 10, 2016, when the company reported its 1Q16 results ended March 31, 2016, with a 14% rise in revenue and a 17% rise in earnings year-over-year.
On July 11, WWAV closed at $56.13, which was 32%, 24%, and 19% above its 100-day, 50-day, and 20-day moving averages, respectively. WhiteWave's shares have risen by 235% since it went public in 2012.
Article continues below advertisement
Downgrade's effect on the stock
After the merger announcement, many companies downgraded the stock, as we discussed in the first part of the series. The stock fell by 1% and closed at $56.13 on July 11 after its downgrade. However, most companies also raised their target prices on the stock.
Peers in the industry
WhiteWave Foods, based in Denver, Colorado, is a consumer packaged food and beverage company. Its peers in the industry include Hain Celestial (HAIN) and McCormick & Company (MKC).
Hain Celestial's stock also rose by 7% after the WhiteWave takeover news due to speculation about its being a potential buyout target. HAIN had risen by 32% so far in 2016 as of July 11. McCormick had risen by 23.8% so far in 2016 as of the same date. Hain Celestial and McCormick closed the July 11 trading day at $52.32 and $105.94, respectively.
The Vanguard S&P Mid-Cap 400 Growth ETF (IVOG) invests ~1% of its holdings in WWAV. The ETF closed at $107.24 on July 11 and has returned 8.3% YTD.