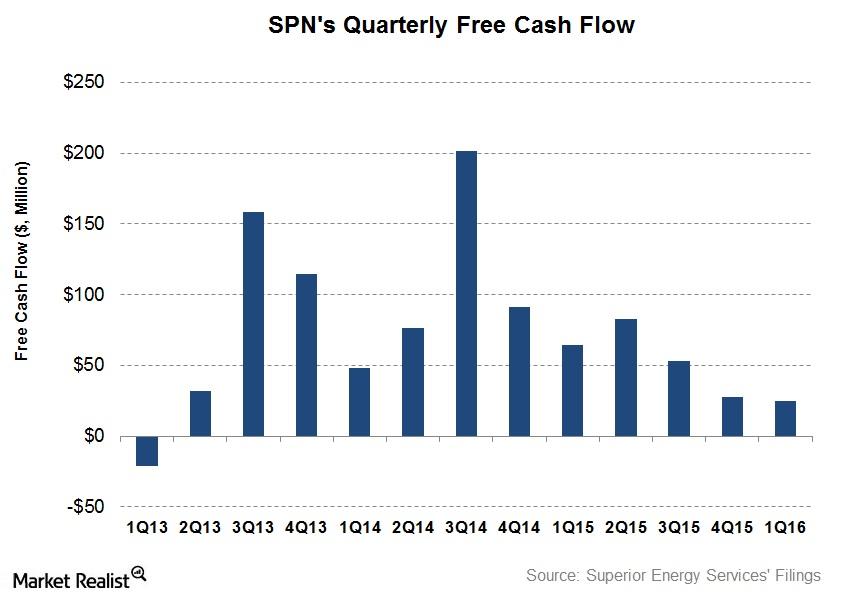 What Superior Energy Services Plans for Capex in 2016
Superior Energy Services' operating cash flows and capex
In this article, we'll analyze how Superior Energy Services' (SPN) operating cash flows trended over the past few quarters. We'll also discuss how its free cash flows (or FCF) were affected by its capital expenditure or capex.
Superior Energy Services' cash from operating activities (or CFO) decreased 74% in fiscal 1Q16 from 1Q15. SPN generated $62.5 million in CFO in 1Q16. Lower revenues in the past year primarily to the lower CFO.
Article continues below advertisement
Superior Energy Services' free cash flow
SPN's capital expenditure (or capex) fell 78% in the past year as of fiscal 1Q16. However, lower capex could not offset the CFO fall, which resulted in FCF decreasing significantly in the past year. In 1Q16, SPN's FCF was $24.5 million, down 62% from a year ago. Superior Energy Services' FCF has been positive in 12 of the past 13 quarters.
CARBO Ceramics' (CRR) fiscal 1Q16 FCF became -$14 million. CARBO Ceramics is Superior Energy Services' lower-market-cap peer. SPN is 0.2% of the SPDR S&P MidCap 400 ETF (MDY), but the energy sector makes up 3.6% of MDY.
Superior Energy Services' 2016 capex plans
Superior Energy Services' capex budget for 2016 is $100 million. This total is 72% lower than its 2015 capex. In February 2016, SPN limited its credit facility to $470 million from $1.0 billion. This move may restrict SPN's capex spending and working capital needs going forward.
Next, we'll discuss how much of Superior Energy Services' external funding requirements are met by internal sources.